If there's one thing that all business leaders can agree on, it's the value of establishing processes and standards. Developing repeatable workflows ensures a higher quality of service and happier employees. Today, most businesses utilize CRM software to automate their most essential workflows. These automations streamline external communication, and support their staff in their daily activities. Still, CRM workflow automations are complicated. It can be hard to know if you're getting the most out of your existing sales workflows. In this blog, we'll explore how to use workflow automation to track leads and close more sales.
How Workflow Automation Can Help You Track Leads
Modern business technologies can offer an incredible level of insight into your leads and existing customers. When your marketing machine is properly integrated with your CRM, you can track the entire life cycle of a lead. Your marketing machine and CRM allow you to track every interaction they have with your company from the moment they contact you. You can see every page of your site they have visited, every call made, and every email exchanged.
With that amount of lead data at your fingertips, you can make better business decisions and close more sales with your marketing machine. Still, it's more than likely that you aren't getting everything out of your CRM, which means your marketing machine can do even more to support your sales team.
Sales Workflow Automations Your Business Needs
When working on workflow automation for sales, we recommend strategies that help your team prioritize while keeping your leads warm and ready to buy. A few examples of workflow automation in sales include:
Lead Scoring Automation – Modern business technologies allow you to score incoming leads. These scores are dictated by parameters you set in your CRM. Leads with high scores can become high priorities for your sales team.
Lead Assignment Automations – You can create workflow automations to create fair lead assignments. You can set up random round-robin automation, or assign leads based on specific criteria such as location.
Lead Nurturing Campaigns – Also known as Drip Campaigns, lead nurturing campaigns are made up of automated marketing emails that keep your leads warm. At the same time, these campaigns remind your sales staff to make important follow-up calls to close the deal!
Reengagement Campaigns – Frankly, you don't see enough reengagement campaigns out there! These campaigns help you reconnect with leads you may have lost to a competitor, or who might have lost track of their previous communications with you.
How Workflow Automation Can Help You Close More Sales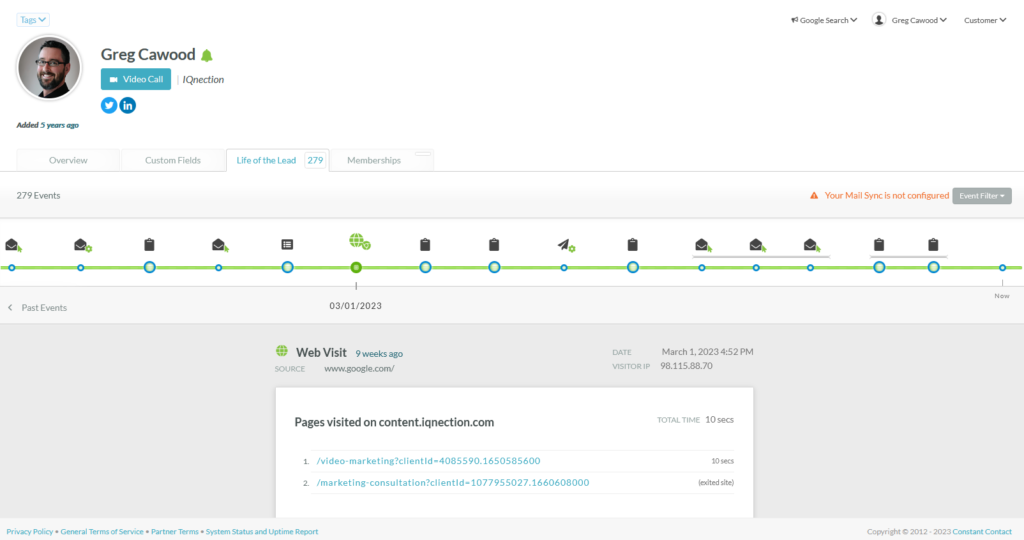 If you're wondering how to integrate workflow automation with your CRM, you can find the answer in your CRM itself! CRM platforms are full of interesting features that help you do business better, but most businesses simply aren't using all the tools at their disposal. This is likely due to difficulties using the platform, as 72% of CRM customers in a Salesforce study reported that they would trade some functionality for ease of use.

Most CRM platforms in 2023 are built with workflow automation capabilities baked in. Plus, workflow automation with Constant Contact Lead Gen & CRM, HubSpot, and Pardot by Salesforce are easy to implement. If you're working with a CRM that lacks these features chat with us to discuss your options.
By building your workflows directly in your CRM, you reduce the risk of inaccurate personalization in your communications. This workflow process will also centralize your lead behavior reporting to an individual contact record. It also delivers analytics on the success of your automated communications. That means that your CRM is the best tool to track leads and close more sales!
Implement Workflow Automation that Drives Sales
If you're not using workflow automation for sales yet, you should be. Workflow automation is a powerful tool that will help you take control of your leads and sales process. By following the steps in this blog, you can implement workflow strategies that will drive real results for your business.
When the time comes to build and implement workflow automation for your sales team, make sure you consult an expert. At IQnection, we understand the challenges of implementing automation in your marketing machine. That's why we've dedicated the necessary time to become a Constant Contact Lead Gen & CRM Platinum Level Agency and HubSpot Solutions Partner. Contact us today to get the answers you're dying for.