For more than 60 years, B&G Manufacturing has been a family-owned and operated company. Their longevity comes from a tradition of bringing innovative excellence to their customers and end users. B&G Manufacturing operates out of a fully integrated 170,000 square foot manufacturing facility that delivers industry-leading solutions every day to clients in the medical, energy, nuclear, aerospace, defense, and oil and gas markets. B&G Manufacturing also operates a 40,000 square foot distribution center in Houston and maintains an online catalog of more than 10,000 part numbers for easy one-stop shopping
B&G Manufacturing also utilizes lean methodologies and the SAP® ERP system to streamline processes and delivers specialty fasteners and complex machined components on schedule.
Website Design
Search Engine Optimization
Content Creation
Redesign the Existing Website, Rewrite Website Copy, and to Get their Site to Show up in Google.
Manufacturers, in general, tend to be behind the curve with online marketing. B&G Manufacturing was no different! Their website was old and contained several broken links, outdated content, it also didn't have an easy-to-use Content Management System so that they could not easily update it themselves. The overall goal of the project was to move B&G Manufacturing's entire web presence forward and introduce a modern website so that they could better compete within other large manufacturing companies.
When B&G Manufacturing came to us for help, it was clear that they needed to re-establish their online presence with an updated website which included a big overhaul of their website's copy. They wanted to present an exceptionally clean professional website to highlight their depth of services, years of experience, their impressive manufacturing facility, as well as their professionally trained personnel. We were able to integrate design elements that re-enforced their brand, with modern design elements that appeal to their targeted personas. We also developed an industry-focused blog that allowed them to expand their expertise into a variety of compelling topics related to manufacturing.
B&G Manufacturing also wanted to make it easy for potential clients to find them online. This meant we needed to focus on developing copy for their website that used the keywords that their clients search within Google.
Clean and Professional Web Design with Google SEO
IQnection's team of marketers developed a clean, professional, and easy to use website for B&G Manufacturing. We put an emphasis towards rewriting their copy and reorganizing their website's navigation. We also wanted to show their years of experience and extensive capabilities. The website also highlighted the quality service that they provide their clients and their competent and well-trained personnel.
IQnection implemented an SEO campaign so that B&G Manufacturing could be found by their potential clients. The digital SEO strategy focused on strengthening B&G Manufacturing's brand and providing content of value for their customers to read.
Since partnering with IQnection, we have been able to prioritize a list of their most important and valuable SEO keywords, complete on-page technical optimization of their website, such as optimizing images, meta tags, and their underlying website code. We have also been able to identify issues with their site overall that were affecting their page load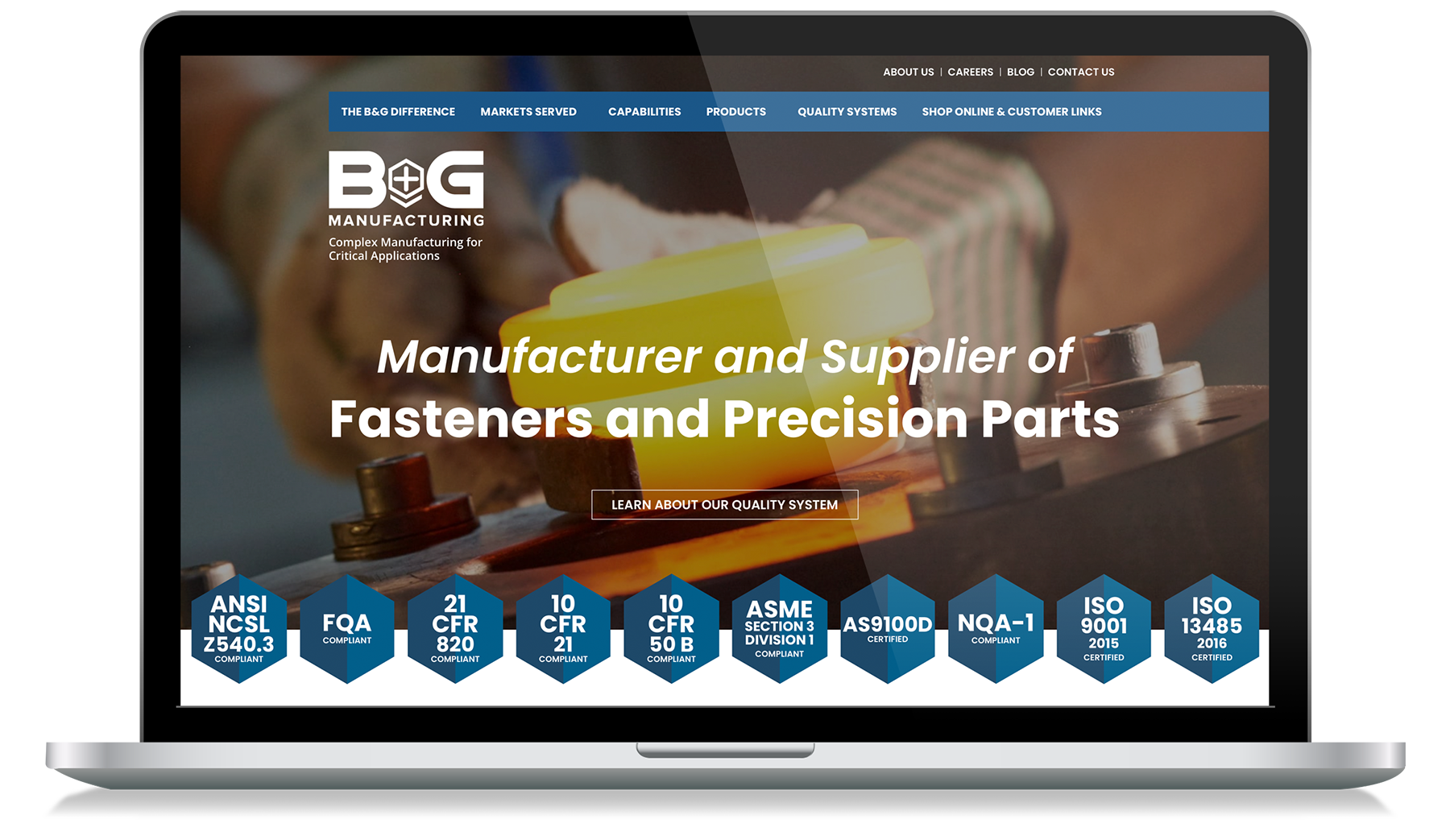 Learn how to
X
Do You Want to Learn How To...
Drive leads to conversion
Master audience segmentation
Get the most out of your ad spend
Optimize Your Website For Success