As a manufacturer, you are constantly striving for continuous improvement. You seek innovative ways to improve operations and the products you offer. Of course, you're also looking for ways to increase your market reach, so that those better products can be purchased by the people who need them. To grow your market reach, you need to invest in your digital marketing strategy. But a simple investment isn't enough, you need to push the boundaries of your marketing to find real success. Social media strategy is, sadly, often overlooked and underappreciated by many industrial B2B companies. Despite its proven success in driving actionable leads and valuable brand awareness. In this blog, we'll explore how manufacturers can better use both common and uncommon social media platforms to unlock new opportunities for customer engagement and revenue growth.
4 Ways to Leverage Social Media for an Industrial B2B Company
Let's be frank, ignoring social media strategy is an error that most manufacturers can't afford to make. Marketing for manufacturers is complex, and your marking machine needs to incorporate several marketing channels to earn new business. That means that no business can rely solely on one marketing strategy. Instead, you need to build a robust marketing machine that creates multiple opportunities for customers to enter your sales funnel. At the very least, your marketing strategy should include search engine optimization (SEO), content marketing, and social media.
Social media offers manufacturers countless benefits that other marketing methods can't replicate. Here are four key ways to leverage social media for your industrial B2B company:
How to use social media to improve customer service in manufacturing: Social media allows you to engage with your customers in real-time. This means that you'll be able to gather more feedback and foster real relationships that build brand loyalty.
How to use social media to reach new customers: By leveraging social media, manufacturers can enhance their brand awareness. This brand awareness is crucial to reaching a wider audience and increasing market reach.
How manufacturers use social media for market research: Social media is often filled with the unfiltered opinions of its users, which means it's the perfect place to gain insight into customer preferences, industry trends, and competitor analysis.
Drive Revenue Growth Through Targeted Advertising: Social media advertising campaigns offer powerful tools for reaching potential customers. Unlink Google Ads, social media ads have advanced targeting options, allowing you to narrow down your audience based on demographics, interests, and behaviors.
How Social Media Helps Manufacturers Improve Operations
Building a social media strategy won't just benefit your marketing and sales. Your social media strategy can help you transform your operational procedures. This is possible because social media allows you to engage with your customers in a more personal manner. With social media, you can directly interact with clients, answer their questions, and receive more feedback. This valuable feedback could lead to drastic, positive changes to your operations and products.
The customer interactions made possible by social media won't just give you valuable feedback to improve your products and operations. These interactions will lead to more brand awareness! When you interact with a post or comment about your brand, you are showcasing your values to your customer and their social connections. This innovative and public approach to customer relations and feedback will differentiate you from competitors who are underutilizing social media.
Get Your Free Marketing Audit
Your digital marketing efforts should work harder for you
How to Use Social Media for a Manufacturing Business
Every company, including manufacturers, needs to embrace social media and incorporate it into their social media strategy. It's an essential tool that allows you to get your name out there! But you can't just rely on LinkedIn marketing, you need to diversify your platform usage!
To help you choose the social media platforms that will drive real business for your organization, we've included a brief description of our favorite social media platforms for manufacturers. Read on to learn more about conventional social media platforms, and the unconventional platforms you might be missing out on.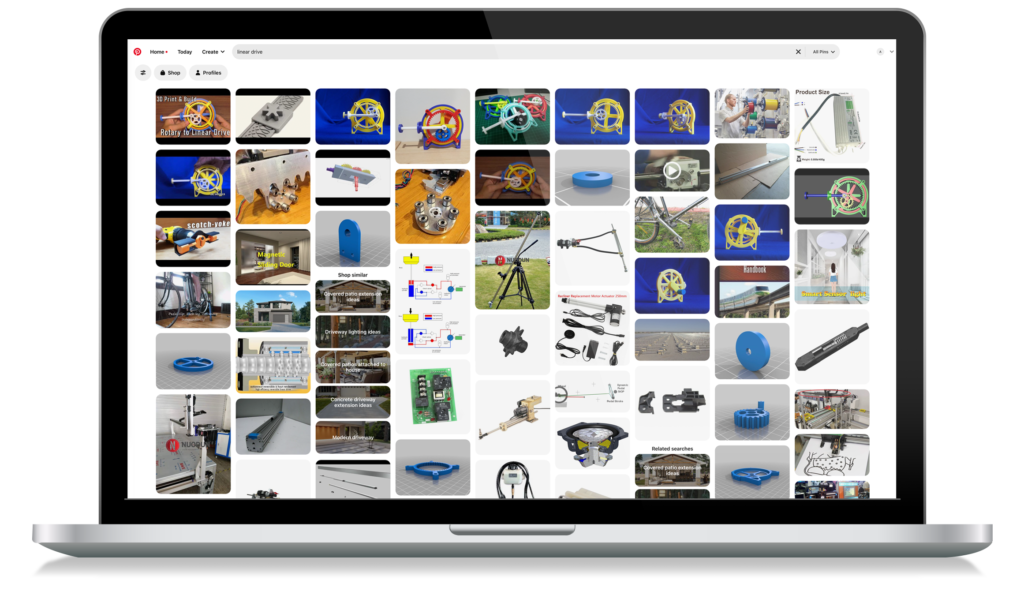 Boost Search Engine Optimization with Pinterest
Pinterest isn't just for home décor, it's a powerful place to share information about your manufacturing business! By sharing images on Pinterest, you get the opportunity to improve your website's SEO through image rankings. When you post relevant content on Pinterest, you can leverage the platform's natural effectiveness in Google searches to increase your online visibility.
Facebook for Manufacturers
With a massive user base and easy advertising capabilities, Facebook is an old favorite of social media marketers. On Facebook, manufacturers can gain exposure through organic posts, paid media, and even in industry-specific groups.
Still, Facebook isn't right for every B2B social media campaign. Before you begin your Facebook journey, consider user demographics, your target audience, and the existing spaces for your niche on the platform.
A Manufacturer's Guide to Twitter
Twitter is a great platform for sharing quick updates, promoting premium content, and staying informed about industry news. As a manufacturer, you can use Twitter to address your customers' concerns and communicate essential information publicly.
Manufacturing an Instagram Following
While underutilized by many manufacturers, Instagram is among the most widely used social media platforms available. Instagram offers a highly visual experience to its users, which gives manufacturers the opportunity to share compelling images and videos about their products.
Instagram may also be the best fit for your next paid social media campaign, as the platform offers a seamless ad experience for users. This seamless experience will lead to more conversions for your business and more happy customers in your network.
Target Topics on Reddit
We understand that this suggestion might seem like it's coming out of left field, but Reddit is a social media platform that can't be ignored! Users of Reddit are information seekers, which makes this platform the perfect place to share your branded educational content.
For manufacturers operating in niche fields, advertising on Reddit might be the key to success. When advertising on this anonymous platform, you can target your ads to users who have shown interest in a particular topic. You can also target specific sub Reddits to focus on only the most qualified candidates.
Getting Started with Social Media for Manufacturers
Manufacturers can't afford to overlook the power of social media in their marketing strategy. By exploring all available platforms, industrial businesses can grow brand awareness, get crucial feedback, and grow their business.
To explore how you can use social media to grow a community and your business, contact an experienced digital marketing agency that specializes in industrial B2B businesses like IQnection. For more than 25 years, our team has helped manufacturers leverage digital marketing and social media to reach new heights of success.