Let's start by chewing on the distinction between offline and online competitors. If you're kind enough to continue indulging our analogy, perhaps we'll call the following piece of our post the appetizer.
What's the difference between offline and online competitors?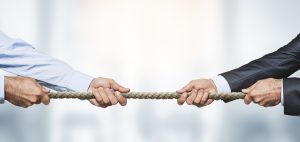 When we talk about offline competitors, we're referring to companies you compete with for market share that you may already know. They could include the brick-and-mortars in your local or regional area or perhaps those you may have lost business to in the past. You're likely familiar with these companies, their offerings, and how your company differs from theirs. This list of competitors is helpful to know and follow, but it doesn't tell the whole story.
By stark contrast, online competitors are the companies you compete with for market share in search engines and other online platforms. They're the ones our digital marketing agency in Philadelphia expertly pinpoints. A quick online search for the products or services you offer can give you a taste of the companies competing with you in the digital space. Many of them may not be familiar to you, yet they may be actively devouring precious new business from your target audience – which is to say new business that could be filling up your proverbial plate.
Next, let's move on to the main course to explore what you can do to earn a bigger share.
Identifying and analyzing your online competitors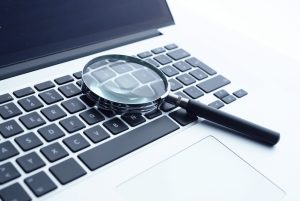 A competitor analysis reveals the names of your online competition and their strategies. It can also highlight opportunities for gaining a larger slice of the pie (more on dessert coming up). By focusing on online competitors, you can position your company more favorably than others competing in your digital landscape.
At our digital marketing agency in Philadelphia, we use specialized tools and technologies that tease out these insights for companies primarily in B2B markets, such as manufacturing, professional services, and medical innovation. Our vast expertise tells us a deep dive is the only way to understand the competition thoroughly.
The following are some of the aspects we explore in a competitor analysis:
Domain authority – Domain authority is a component of an online competitor analysis looks at a competitors' ranking ability in Google. It's a comparative metric useful for knowing how much ranking influence you need to outperform them.
Traffic trends – By estimating the amount of traffic to your competitors' websites from organic and paid channels, you can better understand the overall success of their digital campaigns.
Targeted keywords – Knowing which keywords your competitors are going after informs a sound keyword-centered search engine marketing strategy that will help drive the right kind of traffic to your website.
Backlink profile – Backlinks, or links on other sites, are another factor that influences search engine rankings. Knowing where your competitors stand can be critical for building an even better backlinking strategy.
Digital ad spending – How much do your online competitors spend on paid digital advertising? Knowing this critical information can inform ad budgeting and strategies to elevate your company above the rest.
Key tactics – As a digital marketing agency in Philadelphia; our competitor analysis wouldn't be complete without a clear understanding of what's next. We summarize the key tactics for your digital marketing strategy to beat out your competition.
And finally, it's on to dessert.
The sweet spot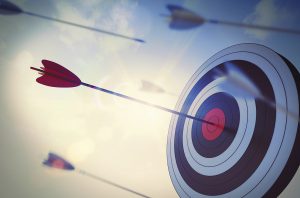 With a comprehensive online competitor analysis in your corner, you're in the sweetest position of all. You can now use the valuable insights to wisely strategize and implement a winning strategy to outpace the competition. It can't get any more gratifying than that.
If you have an appetite for more. More website visitors, more clicks, and more sales – our digital marketing agency in Philadelphia can help. Our veteran team of experts skilled in the full spectrum of digital marketing capabilities, including competitive analysis, website design, eCommerce solutions, SEO, and paid media.
Contact us to learn more – we might even buy you a real lunch.