First impressions are everything, especially when you market your industrial business online. Even in industrial and manufacturing businesses where sales are based on relationships and trust, a great website is crucial. Your website will act as a guide for customers, a source of consistent inbound leads, and a powerful sales tool. By designing a great website, you can ensure that you're putting your best foot forward for customers and potential employees. 
As 2023 shifts into high gear, we're expecting to see several trends in great industrial web design. Among them are a focus on responsive mobile design, minimalistic formats, user-centered design, and interactivity. When combined, the best industrial website designs of 2023 will offer an exciting and immersive experience to users.  
In this blog, we'll share seven of the best industrial website design examples of 2023. Read on to learn what makes these businesses stand out from the competition.  
Amacoil's Accessible Website Copy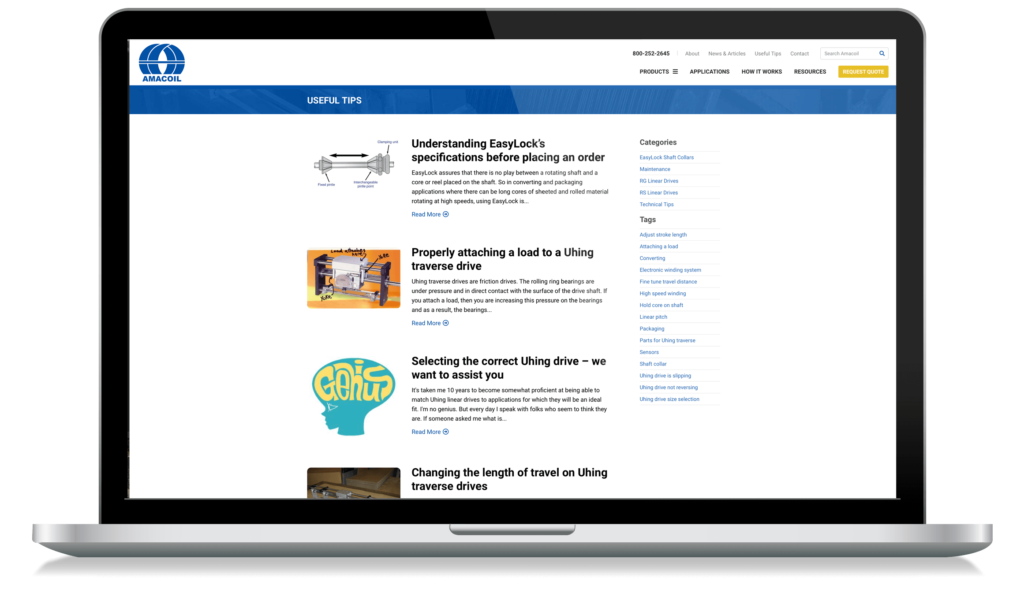 Amacoil is an industrial B2B sales company and distributor of Linear Motion Mechanical Solutions. Amacoil distributes linear motion mechanical solutions to manufacturers in a range of industries including automotive, medical, packaging, and industrial automation. Their products (rolling ring drives and assemblies) are used in machinery that needs backlash-free linear motion components. 
The Amacoil website earns a spot on the best industrial website design examples because of its accessible, easy-to-understand copy. For those that don't have experience in Amacoil's niche, it can be hard to understand the technical aspects of the business. But Amacoil has clearly dedicated time to making their complex and technical business more approachable. Visitors to their site can leave with a new understanding and appreciation for their vital manufacturing products. 
To further their dedication to the accessibility of its content, Amacoil has created a page titled "Useful Tips." This section of the website provides valuable insights to clients looking into using such technologies within their own organizations' environments. "Useful Tips" functions as a quick guide that ensures clients can get what they came looking for without leaving confused or frustrated. 
Build the Best Industrial Website

From user-centered design to clear and consistent messaging, a great website requires great creativity. If you are looking to build one of the best industrial websites this year, you'll need to include the features these websites embody.
There are many ways to design a great industrial website, but with the help of a B2B industrial marketing agency. By following these examples, your business could easily become of the best industrial website design examples.