By a Doylestown & Philadelphia SEO Service
In the year 1999, IQnection started as a two-person Doylestown SEO & Website Design company. Over the years we have been blessed with growth, but at our core, we have stayed true to our Doylestown roots. Our heart is to serve this awesome community with SEO, Digital Marketing, and Website Design services.
What we love about Doylestown is that it has both a rich cultural heritage and a vibrant business community. Doylestown is also a remarkably business-friendly town and is the home of the County's Courthouse, the Doylestown Hospital, and hundreds of small businesses, shops, and restaurants.
It has been our pleasure to serve this awesome town by becoming a premier digital marketing agency, web development, and SEO services.  If you would like to speak with us, you can reach us at 215-345-5424.
A TEAM OF SEO EXPERTS
Our team has over 20 years of experience providing web design and SEO services.  Years of hands-on experience, combined with the best SEO tools will allow us to bring your company the traffic it needs.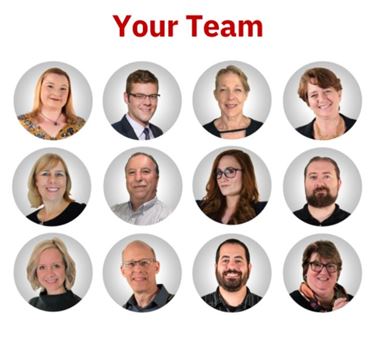 With our team working with you, you will be able to find new ways and opportunities for your website to rank in the search engines.
SEO is the practice of increasing the quantity and quality of website traffic generated from organic search engine results. We also think of it as helping the Google search engine understand and present your website's content to your audience. It takes deliberate and strategic changes to make your website much easier for Google to spider, understand, rank, and index your content.  To learn more about what SEO is and how you can start the process on your own, read this blog post.

How Web Design & SEO Work together
Web design and SEO aren't interchangeable. Rather, good web design supports SEO, and SEO support good web design. Both need to work in conjunction to get traffic to your site, and then drive user engagement and site conversions.  SEO creates visibility, while web design creates engagement.
THE ROLE OF CONTENT IN YOUR SEO CAMPAIGN
We create content that provides your prospects with helpful information at the time they need it. It attracts them to you because you've built a helpful, consultative relationship with them, and you've done this online.
We create content such as blogs, e-books, and white papers, as well as email and social media messaging which can help customers solve problems using your products or services.
Once that content is created, SEO is the practice of making the content on your website more enticing for search engines so you can improve your position in search results and thereby increase your ranking on Google.
You make that content more attractive to Google by making sure it's populated with relevant keywords and inbound links. We'll talk more about the importance of inbound links later on.

Let our Doylestown SEO experts help you avoid these search engine pitfalls
One of the first things our Doylestown SEO experts will ask you about is your blog. A blog is very important for your website. It lets you show the world you're an expert in your field, gives customers potential answers to their problems, and allows your website to rank on search engines.
But simply setting up a blog is not enough. With our help, you can avoid these all-too-common but easy-to-correct SEO-related errors.
1. The wrong keywords
Keywords are the key to your SEO strategy, but how do you know which keywords to use?
Not all keywords are created equal. Many businesses set up websites that are filled with keywords, but the wrong kind of keywords.
The right kind is what's known as long-tail keywords: longer, more detailed, and more specific. It's the difference between "used cars" and "find used 2012 Toyota."
A long-tail keyword is more valuable to your audience – and therefore valuable to you – because longer terms deliver more specific results. Use keywords that are too broad, and the traffic you attract will be less relevant.
Before optimization commences, our Doylestown SEO agency will research the keywords that will work best for you with tools like SEMrush and Google AdWords. They'll evaluate them for competitiveness (how hard will it be to rank for them), and search volume. We make sure you don't waste time and money chasing keywords that may not deliver a solid return on investment.
It's also important to recognize that not everyone would search for your business the way you might expect. Let's say you run a law practice in Philadelphia that specializes in real estate. People could find you by searching "Philadelphia real estate lawyers" but also "real estate attorneys Philadelphia" and "Philadelphia real estate law."
And once you've found your keywords, you need to use them with care. Google favors quality over quantity. Overload your copy with keywords and it will seem artificial – both to Google and your readers – leaving you much lower in the search results than you'd like to be.
2. You're not on social media
That is to say, you're using social media the wrong way. We're writing this in 2019 and it's hard to picture that there's any business without some social media presence.
However, if you aren't using Facebook, Twitter, LinkedIn, Instagram, etc. to share and boost your website content, you're missing out.
Putting a social sharing button on your blog makes it easier for your readers to distribute your content to their networks.
Promoting recent blog posts on your own social media can boost traffic, but so can finding ways to make older content newly relevant.
Let's say you're a medical supply company. Several months ago you wrote a blog post about hiring home health aides. You read that it's National Nurses Day (May 6, by the way) and you go back and promote that blog again.
The more readers who share your content, the more you become a reliable voice for your industry, which helps boost your website authority and your ranking among search engines.
3. You don't have inbound links
An inbound link refers to what happens when other websites – local news outlets, trade publications that cover your industry, other blogs – link back to your website.
Why are these links so valuable? Because they provide another pathway for future customers to find your content.
We can anticipate what you're saying. "We can hire your Doylestown SEO experts to help us find the right keywords. And you can help me share content on social media. But you can't force other publications to link to my site." Well, no. But we can tell you that other people want the same thing you want – to increase inbound links to their sites. If you get into the practice of linking out to related content on blogs and other websites you value and trust, those sites will be inspired to link to you.
You may also want to offer to serve as a guest blogger on another site, especially if they have a blog that's a little more established than yours. If they say yes, everyone wins: You get to link back to your site and they have one less blog post to worry about.
SEO for Blogs: Advice from our Doylestown SEO Team
As we said earlier, we consider blogging to be pretty important. And when we create blog posts for our clients, we do it in such a way that makes sure your target audience sees them.

Populating blog posts with long-tail keywords
Once we've determined which keywords will work the best for you, we make sure they show up in a few different places throughout the blog post:
In the title/headline, which helps readers and search engines know the post is relevant
Inside the body of the post, although – as we said earlier – this needs to happen in a way that reads naturally. You've probably come across some awkwardly written blog posts that insert random keywords, what's known as keyword stuffing.
The URL, which helps search engines conclude what the blog is all about
The meta description, which gives readers and search engines a short summary of the post
Your keywords are important. So are the images you pick, something we'll touch on in the next section.
Making sure search engines can "see" your images
Google may not have eyes, but it can still "see" the images on your page. But it doesn't see them the same way you do. That's why you need to make sure every picture you include in a blog post has alt text that contains your chosen keywords.
Making sure you have a responsive blog
This last tip doesn't involve your blog's content so much as how readers see it.
Most people these days will visit your website on their phone, which is why Google has begun to give preference to mobile-friendly search results.
Mobile-friendly is good, but a responsive site is better. That means your site can adapt to the device where it's being viewed: desktop, laptop, tablet, or phone, it will always be clean and readable, while still using the same URL.
Now, we realize this might sound like a programming issue, rather than an SEO issue. But having a responsive site helps your SEO because any inbound links that return to your tie won't be split into separate URLs. It helps Google more easily recognize the value of your post and rank it appropriately.
Don't Be Afraid to Link to Other Websites
For a long time, it was considered best practice in the inbound marketing/SEO world: you shouldn't link out to other websites from your website.
It makes sense. You've gone to great lengths to attract customers to your site. Why open the door for them to leave. And this is still true, but there are some exceptions. If you link to highly respected and authoritative sites there appears to be a benefit.
Here is a great article about when we acquired ARS Data Systems. This kind of content will actually help you with your SEO.
We're going to explore this notion in a little more detail.
1. It improves your SEO ranking
In 2016, the British marketing firm Reboot published a study that concluded that there's a positive connection between the number of outbound links on a website and its search ranking.
Reboot made 10 new sites targeting the same keywords, all with very similar – though not identical – content. However, only five of the 10 sites included links to authoritative sources such as the University of Oxford and the Genome Research Institute.
These pages all ranked higher than pages without external links, leading the researchers to conclude that search engine algorithms do give weight to outbound links.
2. If you link out, others might link back
Linking to someone else's website sends a message that you're not conducting business in a bubble. Instead, you're part of a wider community that appreciates the input of others.
When you use outbound links in a consistent and thoughtful fashion, it boosts your chances of getting other sites in this community to link back to yours.
Don't panic if you don't start to see links right away. Just know that you're beginning to get the attention of these other sites, which increases your chances of networking with them in the future.
3. You can increase your social media profile
The people you're linking to are as plugged into social media as you are, which means they'll share the content you've made that's connected to them on their networks.
Think about all the times you've come across this kind of thing on your Twitter feed: "We're mentioned in this very smart new blog post from [Company X]. Thanks!!!"
This is the type of thing that can boost your search engine rankings, or at the very least give you a higher profile on social media.
But before you decide to link to external sources, exercise some caution. Ask yourself:
Is the site I'm linking to relevant to my industry? If it isn't, this action might not look natural to Google, which could lead to them penalizing you.
How much authority does this site have? If it's someone who ranks below you in the search results, they might not be able to boost your profile.
Where will the link open up? A new link should open in a new web page without taking the reader away from your site.
About Doylestown PA
Enjoy small-town living close to the big city! The center of Doylestown is perfect for strolling around, exploring the restaurants and shops. Bring your bike…it is a bike-friendly community and bike racks are provided throughout the town. Check out the 16 miles of completed biking trails while you're here. Spend some of your time at one of the nine parks. You'll find playgrounds, softball fields, picnic areas, tennis courts, basketball courts, chess boards, and large open fields. Many parks are close to town so you can easily get back to your shopping or grab something to eat.