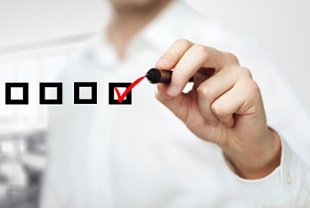 You're a manufacturer, and you're about to start an inbound marketing campaign.
Like anything you do it at work, it's not something you can blindly rush into. This project can only succeed if you have a plan.
Here are five things manufacturing marketing folks should think about before launching a new campaign.
1. Who Are You Talking To?
Before you begin, you'll need to figure out who your buyers are. Start by asking a few questions. How much do they understand about your business? Where do they go to get information before they buy? What are they looking for when shopping for your products/services? What don't they like about your business?
---
2. When Thinking About Your Goals, Be SMART.
In this case, SMART is an acronym: Think of Specific and Measurable goals. Instead of "We want more web traffic" or "We want to increase sales," come up with an actual number. And make sure those goals are Attainable and Realistic. You're not going to change your company in one week. But you should also be Time-bound, so give yourself a deadline.
---
3. Get Ready
Have your landing page populated with SEO friendly keywords. You can research the right keywords for you with things like the Google Adwords keyword tool or Google Insights for search. Your landing page should also include a clear call to action, whether it's a form to complete or a video to watch.
Keywords are important. They're a way for people to find their way to your inbound marketing campaign even after you've stopped promoting it.
But you need to focus on being specific. A company that makes, say, wooden furniture would want to use something like "walnut double pedestals" rather than "desks." It's also important to remember that people do location-based searches. That furniture company we just mentioned would want to use keywords like "wooden furniture Philadelphia area" if they were somewhere in the Delaware Valley.
---
4. Go Public
Begin your campaign with a targeted email to engage your existing leads, and then go wider, writing blog posts to let the world at large know about the campaign. Hopefully, blogging is something you do regularly. It's a form of content marketing that helps drive traffic to your website.
Next, be sure to announce it on social media. And don't just tweet a link and call it a day. Be consistent with your promotions, and be creative. A YouTube clip related to your campaign has the potential to attract millions of eyes. Your biggest fans will hopefully help spread the word for you.
---
5. Keep Track
Be sure to use tracking URLs to see where visitors to your page are coming from and how they're finding you. It's a crucial way of determining the amount of visitors, leads and customers your campaign has generated.
As we said at the top, this kind of project can never work without a plan. IQnection can help you make this plan with our free guide to running a more effective sales team, which includes things like personalizing your content to different prospects.
When customers begin to search for original content about the things you sell — and they will — you can be ready with a content marketing plan designed just for them.
{{cta('5559ac73-a7f8-4ef6-9f66-79093292d80a')}}