Know What Your Competitors Are Doing with AN SEO Competitor Analysis Report
An SEO Competitor Analysis involves researching your competitors' keywords, backlinks, content, and other factors to reverse-engineer the most successful components of their SEO campaigns. This analysis is often a component of a more extensive competitive digital marketing analysis report. It provides insights into their SEO initiatives so that you can craft your own strategy to gain a competitive edge.
The SEO competitor analysis process includes identifying:
SEO competitors
Keyword gaps
Competitor VIP content
Competitor link sources
Learn more about each of these phases of an SEO competitor analysis below.
---
Who Are Your SEO Competitors?
The companies that you compete with online are not always the same as those you compete within the brick-and-mortar world. The internet is a global network of websites, and the keywords you want to target may match those that other companies worldwide are also targeting.
One easy way to identify your online competitors is to simply enter your top keywords in Google, and then keep a list of the websites that rank higher than yours. The longer the original list of keywords, the larger the sample size will be. The idea is to find between 3-10 companies that perform just as well or better than you from an SEO perspective.
Now that you have your list of competitors, it's time to dig a little deeper into their SEO strategies.
---
The Keyword Gap Analysis (or competitive keyword analysis)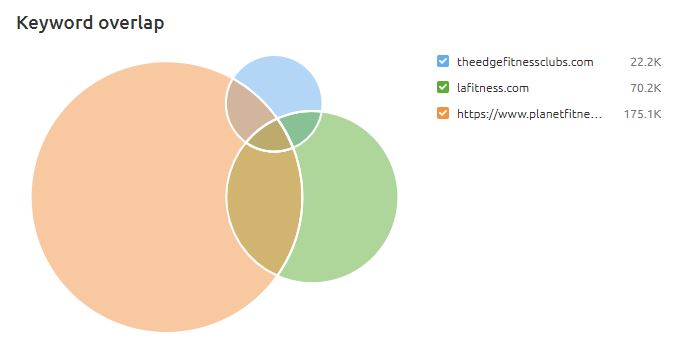 A Keyword Gap Analysis is one of the most valuable reports within an SEO Competitor Analysis. This analysis shows you which keywords competitor websites rank for that your site does not.
In the diagram, we can see that PlanetFitness ranks for a considerable number of keywords. However, all three competitor fitness clubs share a key group of keywords. A Keyword Gap Analysis helps you identify possible keyword targets driving traffic to your competitors' websites that you may have missed.
For our clients, we take this part of the SEO Competitor Analysis a step further with a gap analysis in both directions. We look at the keywords that competitors are using, and also for keywords that competitors are not using. This way, we can identify potential keyword opportunities that competitors are not fully leveraging.
---
Know Your Competitors VIP content
Another critical aspect of an SEO Competitor Analysis is determining your competitors' top-performing content. To do this, we go through a painstaking process of mapping all of the potential keywords in a "keyword universe" to various pages on competitors' websites. We are obsessed with the data that this creates! We use the data to take it up another notch and correlate each keyword back to search volumes. This analytical process allows us to see which pages are the most important to Google and determine how much traffic these pages could be generating if a similar version was on your site.
For each keyword that you choose, you will get a report that looks something like this.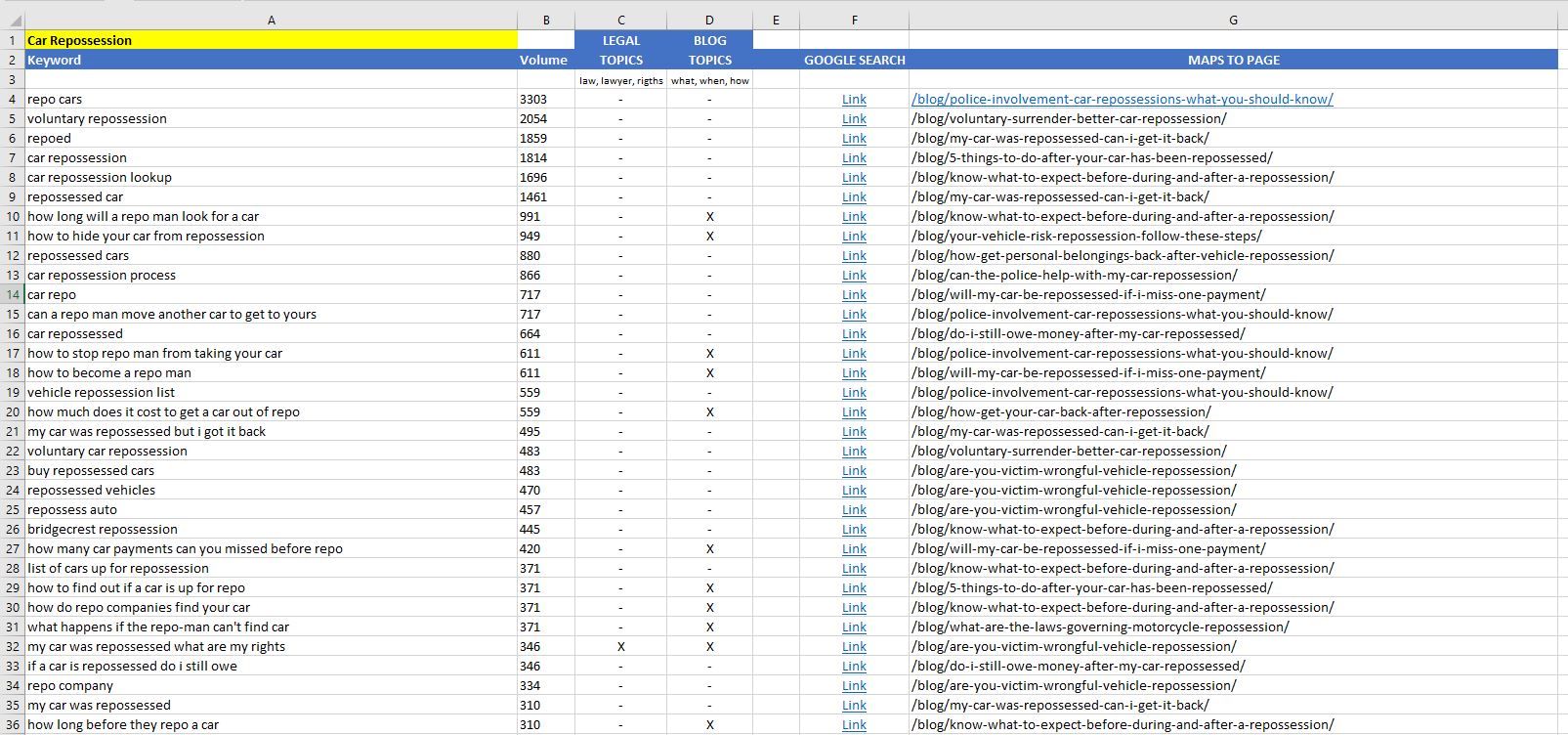 ---
Know What Websites link to your competitors' content
In previous blog posts, we have discussed the importance of links for SEO. You can read our extensive discussion on SEO backlinking here. Because of this known importance, an SEO competitor Analysis can also identify the sites that link to your competitors. This information can provide many benefits. Purely from an SEO standpoint, you can presumably target these websites for your SEO backlink campaigns to give yourself a leg up. As SEO experts know, getting sites to link to your website is difficult. But with this report, you have a pre-made list of websites that are willing to link to businesses like yours. Use it to your advantage!
From identifying your SEO competitors and keyword gaps to knowing competitor VIP content and link sources, an SEO Competitor Analysis can help you keep a steady pulse on your competition while gaining invaluable insights to stay ahead of the curve. To get started on analyzing your SEO competitors, reach out to our SEO team today to clear uncertainty and make headway in your digital marketing efforts.