How can I learn SEO?
There are a ton of free (and paid) resources online to learn SEO! Here are 53 places/tools to learn SEO for free:
Follow SEO blogs/news outlets:
Free online SEO lessons:
https://academy.hubspot.com
https://learndigital.withgoogle.com/digitalgarage
SEO Podcasts:
SEO Google Resources:
Free SEO Tools:
SEOs to follow on Social:
Do I need a certification in SEO to get a job?
No!
Certificate programs are helpful because they cover a lot of basic SEO topics. Having taken a lot of them, I find them beneficial just to hear the information again and again. However, most people who work in SEO don't have certifications in it. There is a TON of free information online about how to practice SEO. There are also some great paid resources:
Moz Academy
LinkedIn Learning (previously Lynda.com)
ClickMinded
SEO That Works
Certificates can be helpful if you are someone who needs structure to learn. Programs are, generally, lead by experts so you know the information is reliable. Certificate programs also are more focused on education rather then practical experience.
That being said a lot of experts, Neil Patel for example and other SEO News Outlets, are experts and have free information available. Most SEO certificates carry little to no weight in the industry. Experience is more important.
How do I get a job in SEO with no experience?
Like many jobs, SEO is the culmination of many skills. Review your current resume and compare to the lists below to find growth opportunities.
Here are five ways to build an SEO resume:
Start writing! Write copy and publish it on a front-facing (free) platform like Medium or a blog.
Familiarize yourself with the backend of your businesses website. Be curious! Look at where there are H tags, review the backlinks, research keywords. Compile your findings into a document and share it with your manager. If you're a local business investigate your Google My Business Account. You'll boost your resume and look like a Rockstar.
Learn about, and conduct, some User Experience research (UX). SEO is moving away from technical SEO and towards human-focused SEO. UX research is an awesome way to learn about how to navigate this new future. Learn about UX for free here OR take a course like this one from Udemy. [Pro tip: Udemy is ALWAYS having sales, this course included! Wait until a sale and snag this one, or one of the many SEO courses at a good price!)
You're more qualified then you think! Look for opportunities for project management and maintenance, client-interaction, reporting, and research. All of these are fundamental to SEO.
Finally, stay on top of what's happening in the industry. Learn to speak fluently about what's happening in SEO and you'll no about impress your prospective employee.
When in doubt, find a mentor! Network on LinkedIn to find people with SEO Specialist as a job title and reach out – most people want to help. Need somewhere to start? Feel free to send me your questions.
What skills would help me get a job in SEO?
When it doubt, look up Job Descriptions on Indeed or LinkedIn to see which skills are most important. Some companies need more help with content writing and backlink building over Technical SEO. Find out what your strengths are and how they compare to those listed.
Basic SEO Skills:
H tags
Meta descriptions
Alt Image Descriptions
Title Tags
Site Audits
Backlinking
Writing
Customer Service
Keyword Research
Competitor Analysis
Some coding skills
Top soft skills for SEO:
Critical Thinking
Collaboration
Creativity
Customer Service
Communication Skills
Flexibility (I couldn't think of a "c" word that was comparable!)
Other helpful skills/knowledge to have:
User Experience
Behavioral Economics/Psychology/Consumer Behavior
Excel
Marketing
Design Thinking
What programs should I know to get a job?
Some platforms include:
Moz
SEMrush
ScreamingFrog
WordPress
Hubspot
SilverStripe
Drupal
Google Search Console
Google Analytics
Ahrefs
Do I need to know how to code for SEO?
Nope! Though it's very helpful.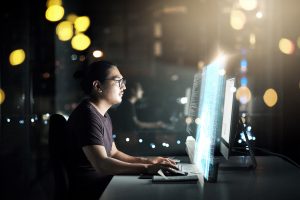 Many web platforms are WYSIWYG (What You See Is What You Get) which makes it easy to make changes. If you're an SEO of one, I'd recommend learning HTML, JavaScript or another type of coding. If you're on a team with web developers or other techy-geniuses, like we have at IQnection, being able to read through and understand code is helpful but big changes are navigated by those who are better skilled.
Is your organization looking to hire an SEO? Share our "21 SEO Job Interview Questions [+5 Questions to Ask Check Culture Fit]" post with your hiring managers!