Social Media feels like it's everywhere.
And it is!
It's assumed that, if you have a business, you should have some sort of social media profile.
But, why?
Experience Marketing…digitally
If COVID has taught us anything, it's shown that brands who pivot and embrace the virtual present are finding success in our technological future.
While it's easy to say, "just because everyone else is doing something doesn't mean I should to." That's preciously the reason you should be doing it. The proverbial "everyone" already is.
In a recent episode of The Business of Fashion, host Doug Stephens spoke with leaders who took this virtual opportunity and ran with it. Among them was Neha Singh, founder of Obsess. Obsess uses Augmented and Virtual Reality elevate shopping from a two-dimensional engagement into virtual experiential shopping. Obsess increases access for customers by allowing a business to enter into a 24/7 global marketplace. Businesses like Levi's and Ulta have taken advantage of this new technology.
While not all business can, or may want to use this technology. It illustrates an important point: people want an experience.
Companies that create an interaction that lifts a product from a single click of a mouse to a well-rounded experience find that customers are willing to pay more and stay loyal. It's been shown that customers are willing to pay up to 13% more! Not only that but 49% of buyers have even made impulse purchases because of a positive customer experience.
What Does That Mean for You?
In 2018, Facebook shared that 1.6 billion people around the world are connected to a small business on its platform. Instagram is the social channel with the second-highest ROI, according to Hubspot. A study conducted by Walker found that by the end of this year, customer experience will win out over price and product. That means if a customer has a better experience with a brand they'll be willing to pay more and stay longer.
If you create an experience for your customers that includes an engaging use of Social Media you'll see an increase in your search engine rankings.
How? Why?
In a 2018 study conducted by Hootsuite, they tested how sharing their content on social media impacted their traffic. Content that was shared received an average of 22% increase in engagement. Social signals, like whether or not a business uses social media or responds to reviews, help Google see your business as trustworthy.
Social Media Acts Similarly to Backlinks.
Backlinks, or external links on other websites that point to your website, tell Google that your website is relevant. They act as a vote. The more relevant, high quality, backlinks that you have then the more traffic and user engagement you tend to receive. Learn more about backlinking in our Ultimate Guide to Backlinking.
Think of it this way: if you were looking for a new orthopedic doctor and you heard a lot of great things about Practice Elbow, like positive outcomes and quick recoveries, you'd be more likely to schedule your appointment with them. You most likely wouldn't call Practice Knee whom you've never heard of and know nothing about. Google "thinks" the same way.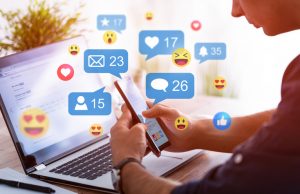 Social Media is another facet of this. By showing Google that you have helpful, relevant information that users like (literally and figuratively), you create signals that your brand is trusted by customers. And trustworthiness matters.
How to Use Social Media to Boost SEO:
Social Media isn't just a great place to share high-quality SEO-optimized content: your social media profiles also rank in Google Search Results. Instead of your business solely showing up on Google, social media allows you to show up on a multitude of platforms: LinkedIn, Facebook, Twitter, Instagram, YouTube, and more! Google like's to help users help themselves. Having a social media profile makes it easier for your users to find your business information, ask questions, and do research. Plus it's an easy way to boost your SEO efforts.
To double your exposure: collaborate with other business owners. Find a business-owner in your niche, or one where there's a mutual benefit from a partnership, and write a piece of content together. For example, a collaboration between a local fashion designer and graphic artist on creating a virtual portfolio. Then, if both brands share it on both of their blogs and social media they get twice the exposure and a backlink! Tapping into your shared audience increases exposure, increases quality backlinks, and helps you network.
When using your businesses Social Media profile, use it like you would your own. Share content that your clients would like! Include common questions, important business information, and updates. Customers will see you as a resource, which builds brand trust and increases traffic. Not only that, sharing content boosts your SEO ranking signals which increases the chance that Google will index the page faster.
Google no longer cares only about keywords they are looking for positive user-focused experiences. Interact with your customers through social media: post client photos and stories, respond to comments, create contests, hold polls. The more you interact with customers the more you can tailor your content and helpfulness.
Social Media platforms are search engines themselves! YouTube is the second largest search engine, only to Google.
At the end of the day, social media creates an experience for your customers that makes their lives easier. Users can leave reviews (i.e. voice concerns), ask questions, or find information. Search engines like when customers are able to find helpful, relevant, answers. Sharing content, and interacting with customers on social media, boosts ranking signals, increases traffic, and helps improve your content marketing and SEO strategy.