Does your business have an eCommerce platform?
The total amount spent on eCommerce continues to grow dramatically each year. Digital Commerce 360 found that 2020 Q2 sales increased by 44.4% from last year. This is the highest recorded growth ever for Q2, and the highest growth overall since they started tracking data in 1999. 
Despite some stores reopening, online sales continue to boom in September increasing by 43% from last year. With the holiday season around the corner now is the time to evaluate your eCommerce platform.
By creating an online store, businesses can stay relevant, reach a wider audience, and increase their ROI. 
Between virtual reality, mobile shopping, and chatbots – eCommerce has become more sophisticated than ever. The landscape includes a dynamic group of eCommerce platforms that can meet a variety of industry's needs. Not only that: they can help you prepare for future growth. 
Regardless of the size of your business, eCommerce is something that can help your business succeed. In this blog, we will take a deep dive into which eCommerce platforms are available and which are the best for various types of businesses. 
W
hy is now the right time to move to 
eCommerce
?
eCommerce can help spread brand awareness
With social media and eCommerce, you're able to increase your brand's reach. Not only that but by creating blog posts about your product and industry you allow your customers to learn more about your brand and message. The design of your website can also help by making it easier for customers to interact with your business. eCommerce can scale quickly and in ways that regular businesses can't easily manage. 
Better understand your customers with eCommerce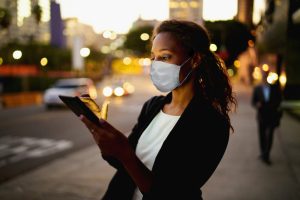 eCommerce, and websites, give businesses the unique opportunity to observe trends in the behavior of their customers. With eCommerce, you can see what products people most frequently place in their shopping carts – before abandoning the checkout process, what pages they find when searching for a product, and more. You can tailor future products and content with this information. ECommerce websites can be integrated with ERP systems, marketing automation systems, and CRM systems to provide greater business intelligence for your company and a more holistic business process. 
eCommerce can help you r
educe costs
With online platforms, you can reduce costs by running your business entirely online instead of dealing with the overhead associated with brick-and-mortar business fronts. Once your eCommerce website is built the annual maintenance costs are minimal. 
eCommerce is b
etter for the environment 
When considering ways to reduce your environmental impact, eCommerce can help! With eCommerce you can move to paperless shopping, less travel is required by customers and staff, and you don't need to worry about the footprint created by a physical location. And eCommerce allows you to better capture the trend toward work-from-home. 
Create better customer experiences
 with eCommerce
eCommerce can help you create better customer experiences. Customers can connect with support 24/7 compared to being limited by store hours. Not only that, but creating blog posts with helpful information can help them while researching a product. Tailoring your content to address common questions customers have is one easy way to create a good eCommerce experience. 
How does eCommerce help a small business?
eCommerce gives small businesses the chance to compete more evenly and broadly. By using social media, optimizing with SEO, and creating high–quality helpful content small businesses can easily compete in a landscape typically reserved for their large counterparts.  
While eCommerce can give small businesses an extra boost – a well-designed eCommerce site can help any brand.  
Not all ecommerce is the same – start by knowing the 7 major types
What is eCommerce? 
"eCommerce", electronic commerce, is the term used to capture business transactions conducted through a website. Typically used in reference to physical products, eCommerce can also be applied to non-physical services such as banking, freelancing, or therapy.  
There are seven types of eCommerce:
Business to Consumer (B2C): B2C and B2B are the two most common business types you'll find in eCommerce. In B2C, businesses sell a good or service directly to a person. Examples of B2C businesses include 

Target

, 

William Sonoma

, or 

ThredUp

 

Business to Business (B2B): B2B Companies sell a good or service to another business. Examples include: 

Costco

 and 

W.B. Mason

 

Consumer to Business  (C2B): C2B businesses are where consumers can directly sell to business. Freelancers are a great example of this. 

 

Consumer to Consumer (C2C): C2C interactions are most 

like

 a "trade" model of transaction. eBay, Craigslist, or Facebook marketplace all fall into this category.

 

Government to Business (G2B): G2B transactions exist where the government provides goods or services to a business. Transactions that fall under this umbrella include inspections, payments, government procurement of goods, and more.

 

Business to Government (B2G): B2G is the inverse of G2B, businesses are selling goods and services to the government. This may include things such as construction, IT, or fair housing.

 

Consumer to Government (C2G): Consumers have transactions with the government when, paying taxes or bills, registering to vote, or signing up for health insurance. 

 
These aren't rigid classifications. Businesses can have overlap! For example, Amazon is both a B2C and C2C while Costco is both B2C and B2C. 
So: 
How to choose an eCommerce platform that is right for your type of business.
There are a ton of eCommerce platforms on the market! While signing up for a demo feels like an easy way to figure it out, sometimes you can leave feeling more confused. Not all platforms are alike, and many are designed for specific business types or customization needs.  
First, let's define a couple of terms: open source and SaaS.  
What is open source?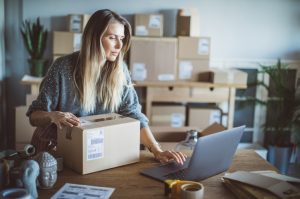 "Open source" refers to software where the original code is made freely available and can be updated, or edited, by anyone. Open source eCommerce platforms tend to be more easily customized, more quickly fix issues, and many times can integrate with a system you already have. Not only that but open source eCommerce platforms give you the flexibility to change vendors if needed. SaaS eCommerce platforms include: Magento and WooCommerce 
The Pros and Cons of open source:
Pros: 
Customizable

 

Flexible

 

Can fix your bugs

 as they come up

 

Better SEO optimization opportunities

 

Can sometimes integrate with existing software

 
Cons: 
Require more knowledge to operate (or 

hiring of a web developer)

 

Requires finding hosting 

 

Some sources say they can be more easily hacked

 
What is SaaS?
SaaS stands for: "Software as a Service". Saas software is purchased by buying a license and accessing the platform through the internet. Typically they require a monthly fee. SaaS eCommerce platforms include Shopify and BigCommerce. 
The 
P
ros and 
C
ons of 
Saas
:
Pros: 
Secure

 

More affordable to a variety of businesses

 

Service does updates

, 

patches

, IT

 

Many platforms offer data and analytics

 

Fast set up

 
Cons: 
Not as customizable

 

Fast set up

 

Not good for highly complex businesses

 
What 
is the
 best 
eCommerce 
platform?
There is no one "best" platform. However, some platforms may better meet your needs compared to others. It is important to consider the business needs first and then select a platform that meets those needs rather than selecting the one platform that your current developer can program. 
4 of the top eCommerce Platforms are BigCommerce, Shopify, Squarespace, and Wix.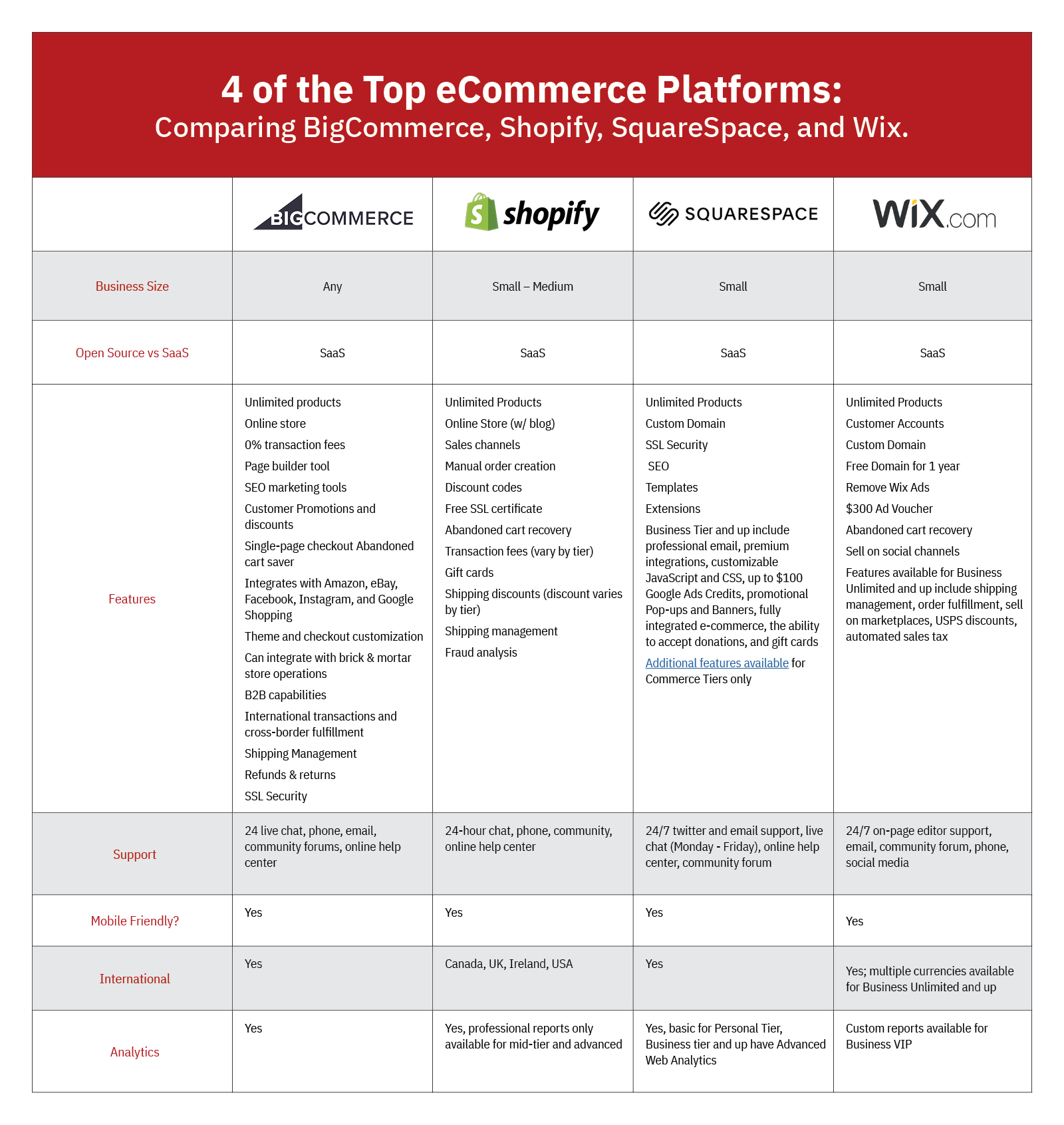 Sometimes FREE is the most expensive option – 
What is the 
least expensive 
eCommerce platform?
Open source eCommerce platforms have the cheapest startup costs – they're free! However, while open source eCommerce platforms are free, there are additional costs involved such as the time and knowledge for updates, potentially outsourcing IT, hosting, plug-ins, and more.  There are many nuances to creating an online store and you may find that working with an experienced developer produces a more successful eCommerce migration or implementation. 
Many SaaS eCommerce platforms, like BigCommerce and Shopify, have built–in technical support, plugins, and more that make them more financially sustainable in the long run. 
How do products get into the eCommerce cart?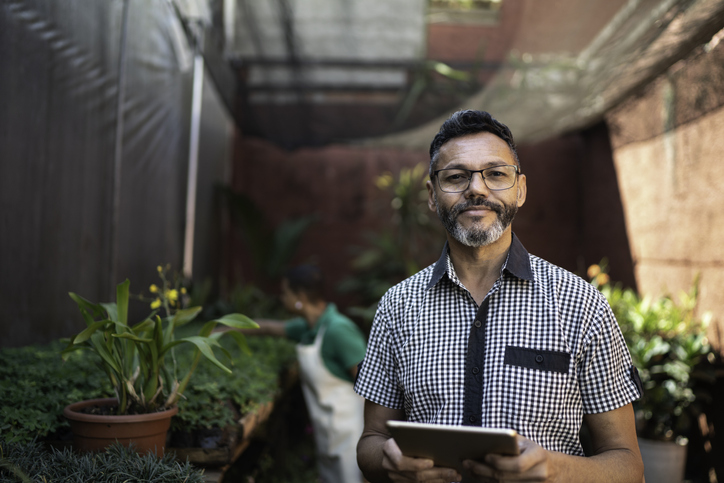 One of the most frequently overlooked aspects of moving to a new eCommerce platform or starting a new online store is the process of importing products into the cart. Sometimes this can be a significant task, especially if you have a lot of products that have attributes, such as color, size, etc. If you work with a developer with strong programming capabilities, they can write a script to import all or a portion of the products. The eCommerce platform you select and the level of organization you have for the product information drive the ability to have a successful product import. 
What is the best eCommerce platform for B2B?
Big Commerce and Magento are two examples of B2B platforms. Big Commerce is SaaS while Magento is Open Source. Consider what is best for your budget, time, and level of experience while picking a platform. 
What is the best eCommerce platform for B2C?
All of these platforms offer B2C capabilities. Instead look for features that you find most valuable (like order management, discounts, shipping help) and that will boost your ROI (SEO, abandoned cart saver, mobile optimization, low/no transaction fees).  
What is the best eCommerce platform for creating an online store?
All eCommerce platforms help you create an online store. SaaS platforms, like Big Commerce and Wix, make it even easier with page builders and hosting options. 
What is the best eCommerce platform for mobile?
Most eCommerce platforms offer mobile–friendly capabilities. SaaS platforms, like BigCommerce, can get you up and running quickly. Some open source platforms, like WooCommerce, are only mobile–friendly if you use the right theme.   
What eCommerce platform has the most customization?
Open Source platforms offer lots of customization! If you are working with an agency, or are tech-savvy, consider using an Open Source platform to capture the essence of your brand. If an agency is outside of your budget and you just want to hit the ground running opt for a SaaS platform. 
What is the best eCommerce platform for small businesses?
Wix is a great option for businesses trying to get up and running fast. Once you're established choose a platform like BigCommerce to really see growth. 
Which eCommerce is easiest to use?
SaaS platforms tend to be easier to use as they require less technical knowledge, have built–in support, and standard out-of-the-box functionality that will get you up and running faster. We recommend using a platform like BigCommerce, Shopify, or Wix.  
Which eCommerce is best for SEO?
BigCommerce is customer–friendly, provides SEO elements out-of-the–box, and is very flexible.  
Already have an eCommerce website? Learn how a backlinking strategy can take you to the next level – and rank above your competitors.