With over 30 years of experience, NDT Supply is an industry leader in providing quality and cost-effective non-destructive testing (NDT) supplies and equipment to technicians and engineers. Industrial teams rely on these critical products for identifying material conditions and flaws that could prevent plane crashes, reactor failures, train derailments, pipeline bursts, and other catastrophic events.
The Challenge
NDT Supply prides itself on competitive pricing, knowledgeable technical support, and the largest variety of high-quality products available, but their previous eCommerce website design didn't sufficiently reflect these standards. In its original form, the website posed roadblocks for website users and their internal sales team.
Users found it difficult to navigate the website, find essential products, and access the technical resources and support they needed. Simultaneously, managing customer quotes, correspondence, and other sales details was time consuming and labor intensive.
The Solution
It became clear that NDT Supply needed a revamped and feature-rich eCommerce website design that would make it more intuitive and easily navigable for users, while serving up all the technical specifications their audience required in a user-friendly way. However, a standard out-of-the-box eCommerce platform would not suit this project's unique requirements; it demanded custom programming to address their users' challenges.
The new eCommerce website design would include built-in features and functions to efficiently track customer inquiries. it would also provide a more inutive navgation structure and product search feature. Last, an easy checkout process would improve conversion and increase online sales.
The result
To align with their noble company values of quality, honesty, and reliability, NDT Supply's new eCommerce website design took on a fresh, new look with various enhancements designed to improve the customer and sales experience, including:
These enhancements include:
Customized eCommerce platform features

With a deep skillset in code, we recommended BigCommerce® as the ideal platform because we could customize the eCommerce functions to meet their needs. As veteran BigCommerce developers, our team delivered from-scratch programming capabilities. Applying our extensive technical knowledge, we took the already robust BigCommerce features and extended them in an unusually advanced way. We achieved the desired layout and website architecture, and cost-effectively built the required functions to take NDT Supply's website to the next level.
Intuitive website structure and product pages
On the product side of this eCommerce website design project, we took a deep dive into the product structure and organizational architecture to create easy-to-navigate categories and sub-categories for NDT Supply's specialized audience. We used entirely scripted and database-driven custom formatting, allowing model numbers, images, and other critical product information to populate and style pages based on an import script. Technical resources and information are easy to access with thorough product details, specifications, and downloadable literature.
A frictionless customer experience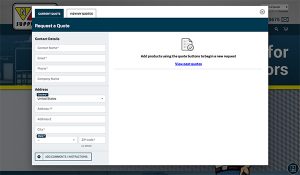 We also built in the ability for website visitors to request a quote. Salespeople can now input pricing and return the quote with a link that preserves everything the customer has assembled in their basket, making for an easy checkout process. This eCommerce website design strategy creates a frictionless process in which a customer can identify an item, receive a custom quote for the desired product, and use an easy one-click link to check out. This expedited, efficient, and user-friendly process generates the right conditions to increase NDT Supply's conversion rates and boost their bottom line.
Visit NDTSupply.com to tour this new eCommerce website design and see the results for yourself. To learn more about our user-friendly eCommerce website development solutions using industry-leading platforms, such as BigCommerce and others, contact us today.