What is Link Building & HOW DOES AN SEO AGENCY USE IT?
Inbound links to your website have been the backbone of search engine optimization for a long time. Ever since Google cofounder Larry Page invented PageRank back in the late 90s, links and link building strategies have been the primary way that Google determines its rankings. Twenty-plus years later, high-quality inbound links to your website are still critical in any SEO campaign. Understanding and implementing high-quality link building campaigns is essential if you're going to compete online, and that isn't going to change any time soon.
Definition of link building

Link building is the process of acquiring hyperlinks from other websites back to your own.  According to search engines, links are like up-votes for your website. The more positive votes, the better your site will perform in search engine results. Search engines use hyperlinks to crawl between the individual pages on your website and between various websites. They keep track of the number of links to your site and give you a score called PageRank, which influences your SEO health.
How Link Building Started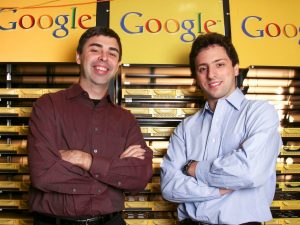 When Larry Page developed Google's PageRank algorithm, each hyperlink to your website was like a vote of confidence for that page. At the time, this was groundbreaking stuff! It meant that Google could look at more than just your website's content to determine which site should rank in their search index.
The premise was that websites naturally recommend high-quality resources to their readers. For example, a site with content about search engine optimization would link to helpful tools and resources from SEO agencies. The theory was that when someone links to another website, they are effectively saying it is a good resource. Otherwise, they wouldn't link to it, much like you wouldn't send a friend to a lousy hotel.
Every page and keyword on your website were like participants in a mini-popularity contest, vying for Google's recognition. Usually, the top spots in Google's index go to sites that have collected the most inbound links to their content from relevant websites.
Good LInks & Bad links
However, Google is smart. They realized that sly SEO agencies would reverse engineer their algorithm and create farms of links directed to their client's websites. So, Google needed to create a system where only quality links counted. At one point, they encouraged website owners to garner links from directory websites. But when tricky SEO companies abused the process, Google rolled out a series of updates that reduced the value that directory links passed back to a website.
As a result, Google designed the PageRank system to give every backlink a different score. Backlinks from relevant, well-respected websites would have a positive impact on your ranking. Backlinks from link farms or non-relevant sources would have a negative effect.
Good backlinks: These links come from websites in your field that contain the same relevant content as your site.
Neutral backlinks: Links from unrelated websites don't do you any good because the content does not relate to your keywords. Sometimes, these links may use the "nofollow" attribute. Learn more about no-follow links in our What is SEO? blog post.
Bad backlinks: Links that originate from link farms, spam sites, or otherwise nefarious sites known to sell links. These low-quality links can actually cause your site's rankings to drop.
Best Link – from Nintendo, the Legend of Zelda!
How to get Links
An SEO link building campaign actively works to increase links to your website. These campaigns will always rely on creating and promoting high-quality assets aimed to garner links on their own merits.  These assets can take any number of forms but will often fit into one of the following categories:
Website Content
Industry Data
Products
Unique Services
People & Profiles
Online Tools
PR Notices – (events/charity/news/awards)
Read our Ultimate Guide to Link Building to learn more.
FINDING SEO LINKING TARGETS
While you may find it relatively easy to drive visitors to your website, it takes a whole new level of engagement for them to link to it. Linking to a website requires substantially more trust and effort, so establishing relationships and connections become mission-critical.
Here's our 5-step process for securing SEO linking targets: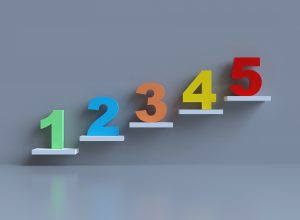 1 – Identify the audience
2 – Create uniquely awesome and sharable content
3 – Find an angle
4 – Outreach and promote
5 – Follow up
Identifying linking targets is often challenging. However, we have come up with two easy and effective methods. In fact, Google has built them right into its search engine. You can use the Google search bar to do an "inURL" search, or a "site:" search.
---
inURL EXAMPLE:  "inurl:philadelphia"
In the example above, the inURL search parameter tells Google to only show results with the word "philadelphia" within the URL.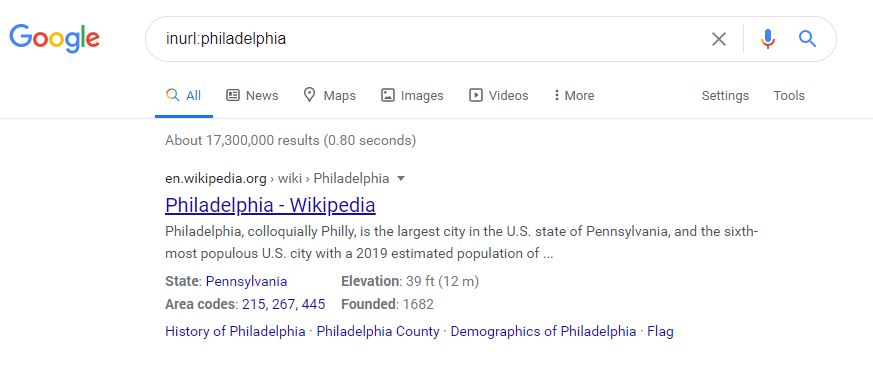 ---
site: EXAMPLE: "site:www.iqnection.com"
In the example above, the "site:" search parameter tells Google to only show results from the website "www.iqnection.com.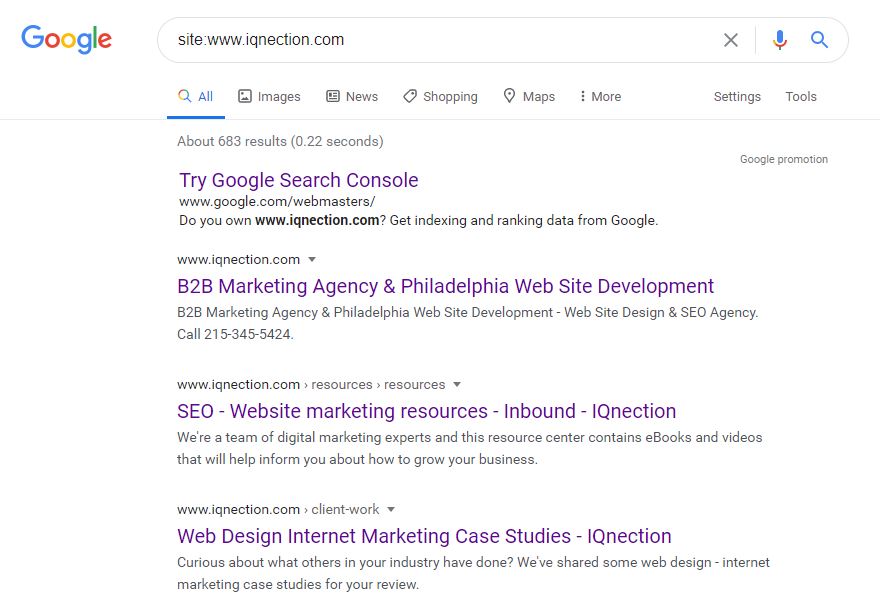 ---
"intitle:" site: EXAMPLE: "inTitle:apple"
In the example above, the "inTitle" search parameter tells Google to only show results that have the word "apple" within the page titles.

---
For a comprehensive list of all of Google's search parameters, take a look at this resource containing Google Search Operators.
Managing Your Website's Backlink Profile
Virtually every long-standing website will start to acquire links, most from directory websites looking to add you to their index. While some high-authority directory websites are a must, many links come from smaller directory websites that do not carry as much influence and serve little or no purpose.
Some companies try to get backlinks to their website by paying a service to provide them. And a few SEO agencies purchase these services for their clients with hopes to improve ranking. These services often claim to secure many high-quality backlinks to your site for a very reasonable fee.  A word of warning.: paying for backlinks will most likely acquire poor quality links, which will ultimately hurt your SEO ranking. For this reason, we recommend steering clear of purchasing links.
We recommend using this backlink checker tool if you want to see which websites have links in their content that point back to your website. When looking at the data in this tool, focus on these areas:
1. Total number of backlinks
The first thing to consider is perhaps the simplest: the total number of backlinks pointing to your site.  A basic quantity can indicate the competitiveness of your site. A large amount of high-quality, relevant links is an excellent indicator that your website has a strong backlink profile.
IQnection's backlink profile.

2. number of Unique domains with backlinks
The more domains that provide backlinks to your website, the better. If one website is providing 50 backlinks to your site, that still counts as a backlink from a single domain.  Multiple links from the same unique domain are worth less than the same number from different websites.
IQnection's backlink profile.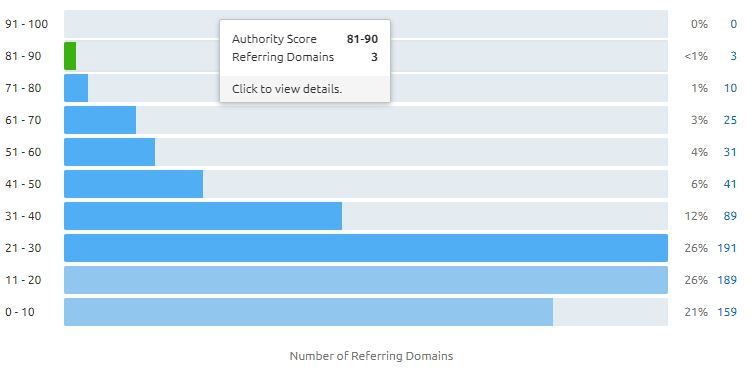 3. Page performance of backlinked URLs
The page performance data in your backlink profile shows which URLs on your website have the most backlinks pointing to them. This data identifies the pages with the most links, which gives you page performance indicators.
If you notice that your highest priority pages have weaker backlinks pointing to them, consider taking these steps:
Improve the content on the pages
Make sure the page loads fast
Add images and infographics
Improve the page's keyword optimization
Do link-building outreach
5. quality of the backlinks
The quality score of a backlink indicates whether the backlinking website is good or bad. Disavowing "bad" backlinks will disassociate your site from spammy ones, reducing the chances of penalty due to the association.
6. Relevance
Be sure to acquire backlinks from websites that are similar to yours.  If you don't, then Google will see them as not relevant to your industry, which can hinder SEO. Google will see you as a generalized site, and not one suited to longtail, industry-specific keywords that your target audience is using to find offerings like yours.
7. Backlink placement
Search engines love editorial-type links that look natural on the page. Backlinks that blend right into the content look more natural—and tie in with a lower spam score!—unlike those disguised behind white text, tiny font, and code.
How do you get high-quality BACKLINKS?
Here are a few of our top strategies for generating high-quality backlinks to our clients' websites:
Create content that's both unique and relevant to your industry, which gives companies a good reason to link their site to yours. Think blog posts, images, videos, and infographics.
Look for the chance to comment on other company's blogs, taking care to include helpful information, and link to your website for even more info.
Seek out high-quality industry sites that don't compete with your business, and see if they'll link to you. These links can often come in the form of pages about partner relationships or directories.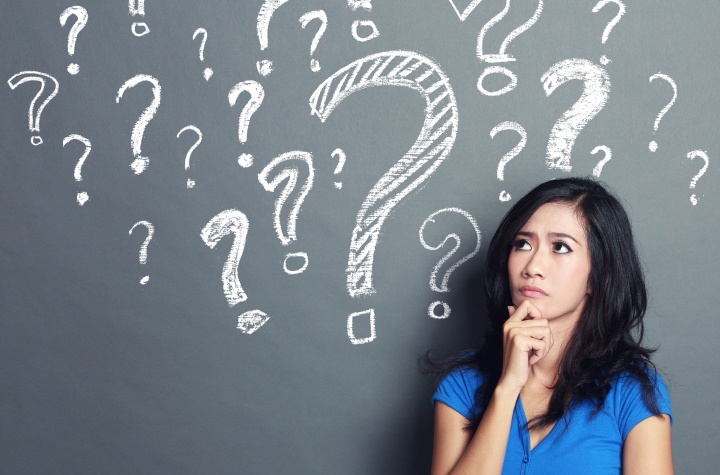 Before requesting links from outside sources, make sure they are a website that's relevant to your industry. Also, ask yourself how much authority these sites have. One you came across on the sixth page of search results might have good material, but it won't be your best bet in terms of boosting your authority and improving your linking strategy.
An active backlinking effort can take some work. At our SEO agency, we spend a lot of time on link building to ensure the connections we make help our clients achieve the rankings and visitors they need to generate more customers.
Should you Link to Other Websites?
There are some good reasons for linking to other websites. A study published last year by the British marketing firm Reboot found a positive relationship between the outbound links on a web page and its search engine ranking.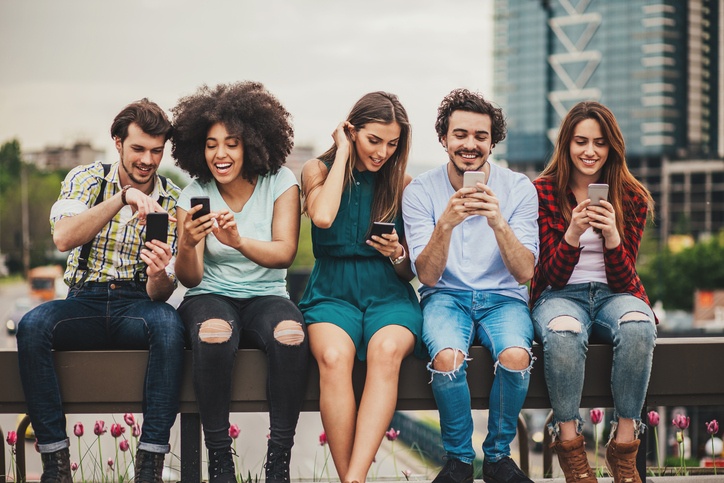 In the study, the company created ten new sites that targeted the same keywords. Each site contained similar, but not identical content. However, only half of them included links to "very high authority" sources like the universities of Oxford and Cambridge and the Genome Research Institute.
After five months, the study concluded that search engine algorithms do take outbound links into account. The five pages that included these links ended up ranking higher than the pages with no external links.
When you link to other websites, it sends your users a message that you're not operating in a bubble — it demonstrates that you're part of a broader, well-connected community. When you link to other websites, be consistent and thoughtful.  Doing so will increase the chances that other sites will return the link. But if they don't link to you right away, don't fret. At the very least, you've captured their attention,  which can only increase the prospect of networking down the road.
Link building is a critical piece of the SEO puzzle, yet it takes a carefully crafted strategy to ensure you score favorably in the eyes of Google. For help establishing the right link building strategy for you, contact our SEO team today.