63.2 million Americans own a Smartphone (comScore), and 35% of these users access the mobile internet from these devices. Much of the data being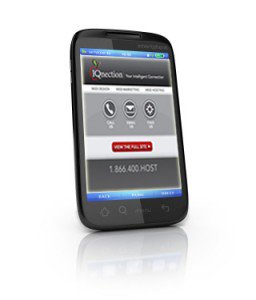 tracked shows that most of these people are using their phones to search for local businesses to get information on hours, locations, specials, etc.
Many web sites do not work as expected on mobile phones. Actually, some do not work at all. Consequently, potential customers may not be able to find your business – and those that do may have a bad experience trying to locate information or products they need. This could alienate existing customers and will not win over any new customers.
Based on our own statistics of existing clients, mobile users are accounting for an average of 10% of visits (based on Google Analytics). The highest percentage of visits from mobile are directed to ecommerce and automotive related web sites. Revenue or Goals from mobile visits average over 6% of the total sales/goals.
Mobile users have immediate and goal-directed intentions. The key to a mobile site's effectiveness is a specific call to action. Instead of using a standard navigation with a link to a contact page we would consider placing phone numbers in prominent positions throughout the mobile site, utilizing a cell phones' click-to-call feature, rather than having to complete an email form or dial the number.
Contact us for more information on mobile website pricing packages or call 215-345-5424 if you have any questions.
Below are some additional statistics on Mobile Usage:
Mobile Usage
63.2 million Americans own a smartphone (comScore)
50% of consumers ages 25-34 have smartphones (comScore)
35% of smartphone users access the mobile Internet from their device (comScore)
Two-year growth (2008 – 2010) of more than 2,000 percent in mobile-ready web sites. (DotMobi)
Mobile eCommerce
8% of total eCommerce sales will come from mobile by 2014 (ABI Research)
Mobile coupon users in North America increased more than tenfold in 2010. Triple-digit increases are expected in both 2011 and 2012. (Yankee Group)
$2.37 billion of mobile coupon transactions will take place in North America in 2013, up from $5 million in 2010. (Yankee Group)
Percentage of Searches that are Mobile Device by Industry
This data source : Internal Google Data (Feb. 2011) via: mobiThinking
Restaurants – 29.6%
Automotive – 16.8%
Consumer Electronics – 15.5%
Finance / Insurance – 15.4%
Beauty / Personal – 14.9%