Join us to find out how Strategic Planning can help you increase profits in 2011.
A Free seminar sponsored by IQnection Internet Services featuring Karen Jett, CMA Values based growth expert.
Strategic Planning Equals Increased Profits
June 16th – 8:30-9am networking, Seminar 9-10am.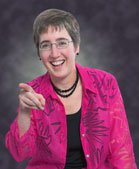 Strategic planning often conjures up thoughts of hard work, of tons of research into your services and products, and of large corporations and business meetings with department heads and divisions of the company. But what if you are a solo entrepreneur or small business owner and you're doing most of the work in your business? Besides being a tool that larger companies regularly utilize, strategic planning can be valuable to your small company, too! But what exactly happens in strategic planning? What benefits does it provide? And why is it important for businesses of all sizes, especially yours?
Join Karen as she explains how strategic planning can help you increase the profitability of your business in 2011. She will simplify the process and help you understand the relevance of strategic planning to your business and how it can help you succeed in an easy to understand format. Planning for the future of your business doesn't have to be complicated.
Attendees will learn:
• What is strategic planning?
• Tactics vs. Strategies
• Outcomes and benefits
• Resources for more information
Karen L. Jett, CMA works with small business owners who want a strategic advantage to grow their business or practice. With more than two decades of accounting and leadership experience, Karen brings a unique business perspective to her clients by understanding the operations and financial challenges faced by business owners on a daily basis.
Karen holds associates' and bachelor's degrees in accounting from Montgomery County Community College and Temple University, and is a Certified Management Accountant. She was inducted into MCCC's prestigious Alumni Hall of Fame in 2009. Karen has also developed an interactive ethics training system for small businesses, called "Questioning Ethics," and has published a book, Grow Your People, Grow Your Business.
For additional information about Jett Excellence, visit www.JettExcellence.com.
To Register or for additional information on this Free Seminar, contact Eric Jacobson.