Blending traditional strategies with modern technologies can often yield transformative results when navigating the ever-evolving digital marketing landscape. One powerful blend is when thought leadership intersects with short-form video content. This combination can amplify your company's reach and significantly boost business growth when effectively harnessed. In this article, we'll explore the historical context of thought leadership and delve into the rise of short-form video. We'll also explain how you can elevate your influence as a thought leader, whether you're in manufacturing, healthcare, technology, or direct-to-consumer (DTC).
A Brief History of Thought Leadership
Thought leadership has a rich history that predates the digital era. Early pioneers like Matthew Boulton used intellectual correspondence to advocate for the steam engine, while William Lever wrote educational books to promote the benefits of soap. Coca-Cola collaborated with experts to publish a book on social gatherings, aligning its brand with traditional values. These examples demonstrate the power of strategic communication and education to shape opinions, influence consumers, and establish brands as leaders in their industries.
After World War II, consulting firms like McKinsey and Accenture embraced thought leadership as a marketing strategy and began publishing influential research papers and books. Finally, in 1994, Joel Kurtzman coined the term thought leadership to describe individuals with unique industry perspectives, knowing the competitive edge thought leaders could bring.
Throughout history, individuals and brands have consistently demonstrated the power of thought leadership, paving the way for this influential marketing practice.
Adapting Thought Leadership for Modern Audiences
In today's digital age, businesses of all types have recognized the potential of thought leadership as a strategic marketing strategy to enhance their reputation and foster engagement. However, the methods of connecting with audiences have evolved significantly. Instead of relying on traditional methods like research papers and books, thought leaders have embraced various digital platforms and channels. These channels include e-books, blogs, white papers, newsletters, websites, audio, and videos. Regardless of what channel is used, these pieces engage the thought leader's target audience effectively.
As the digital space evolves, establishing credibility and authority as a thought leader requires adapting to the changing audience preferences. With shorter attention spans and an appreciation for easily consumable and shareable content, it's crucial to reimagine how we share thought leadership content. This entails embracing new formats like video and interactive elements, leveraging storytelling techniques and user-generated content (UGC), collaborating with industry experts and influencers, and providing educational value. By embracing these strategies, you can navigate the digital landscape and effectively engage your audience.
Next, we'll introduce short-form video content as an emerging thought leadership solution designed to captivate modern audiences in the ever-evolving digital landscape.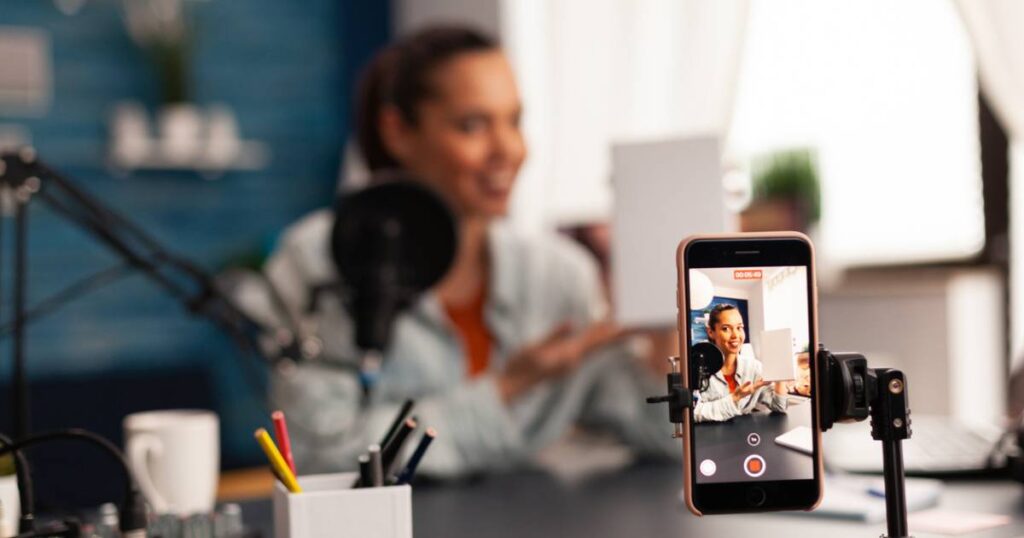 Unleashing the Power of Short-Form Video for Thought Leadership
Short-form video content has gained immense popularity on platforms like TikTok, Instagram Reels, and YouTube Shorts. These bite-sized videos, typically under 60 seconds, offer a powerful way to extend thought leadership and engage a broad and increasingly savvy audience. Experts suggest that short-form videos are most effective between 31 and 60 seconds long, although this may vary depending on the platform.
What are the benefits of short-form video content?
Short-form videos have become a crucial part of many content marketing strategies because they're engaging and highly effective thought leadership tools that offer:
Effective lead generation – HubSpot's 2021 social media trends report ranked short-form video content as #1 for engagement and lead generation.
High engagement – A 2020 Wyzowl study found that people share videos at twice the rate than any other form of content.
More sales opportunities – The same Wyzowl study found that 84% of people were convinced to buy a product or service based on a brand's video.
What should you include in short-form video content?
When creating short-form video content for thought leadership purposes, consider incorporating the following elements:
Influencer collaborations: Partner with industry influencers to expand your reach and enhance credibility.
Behind-the-scenes footage: Offer glimpses into your brand's operations and processes, showcasing authenticity and transparency.
Educational content: Share valuable insights, tips, and tutorials to position yourself as an expert and provide value to your audience.
Engaging visuals: Utilize creative visuals, animations, and graphics to capture attention and convey information effectively.
Storytelling: Craft narratives that resonate with your audience, making an emotional connection and leaving a lasting impact.
Interactive elements: Encourage audience participation through polls, quizzes, or challenges to enhance engagement and foster community.
Call-to-action (CTA): Prompt viewers to take specific actions, such as visiting your website, subscribing to your newsletter, or joining a discussion.
To create effective short-form video content, it's crucial to understand your target audience and their preferred channels. This ensures that the content aligns with your brand's objectives and resonates with your audience's needs and concerns.
How do you create short-form video content?
To create impactful short-form video content, follow these tips for success:
Tell compelling stories that resonate with your audience.

Showcase authentic experiences.

Collaborate with industry experts and influencers to add credibility.

Provide educational content that helps your audience learn and apply new ideas to their lives.

Experiment with innovative formats and techniques.

Focus on providing value to your audience rather than self-promotion.

Prioritize authenticity and be genuine and relatable.

Create emotional connections with your audience.

Use visuals and engaging elements to capture attention.

Optimize your content for each platform to maximize reach and impact.
Following these helpful tips for success, you can establish yourself as a thought leader and build strong relationships with your audience in the ever-evolving digital age.
Launch Your Thought Leadership into the Digital Spotlight
Ready to harness the power of short-form video and other effective digital strategies for your thought leadership initiatives? Contact us to explore our social media management services and discover how we can help you establish your brand as a trusted industry leader in the digital age.