Are you ready for the future of SEO, where keywords are only part of the equation? Optimizing for user intent is the newest human-centered strategy for ranking content in Google search results.
For years, securing search engine rankings hinged heavily on optimizing websites and content for specific keywords. Generally, the better optimized for phrases users entered on search engines, the higher the content ranked. Google's thought process stemmed from the desire to deliver the most relevant results to users based on their search query.
However, there has been a swift and steady change in Google algorithms as the search giant becomes wiser to the humans behind the words. What are people really looking for in each search query? With a better understanding of a user's objective, Google can serve up more satisfying search results that contain not only the keywords the user entered, but also the most helpful content.
This human-centric shift has progressed SEO strategies beyond keyword targeting to include even more advanced techniques designed to discern what's inside the heads of human users.
Going beyond keywords to explore human motivation
With the help of artificial intelligence (AI), Google continually works to deliver a more human-focused search experience aimed to answer a question, solve a problem, or satisfy another goal. For instance, if you type "ladybug" into a search bar, Google understands that you want something specific – but what? Perhaps you want to know where ladybugs live, their lifespan, what they eat, or something else.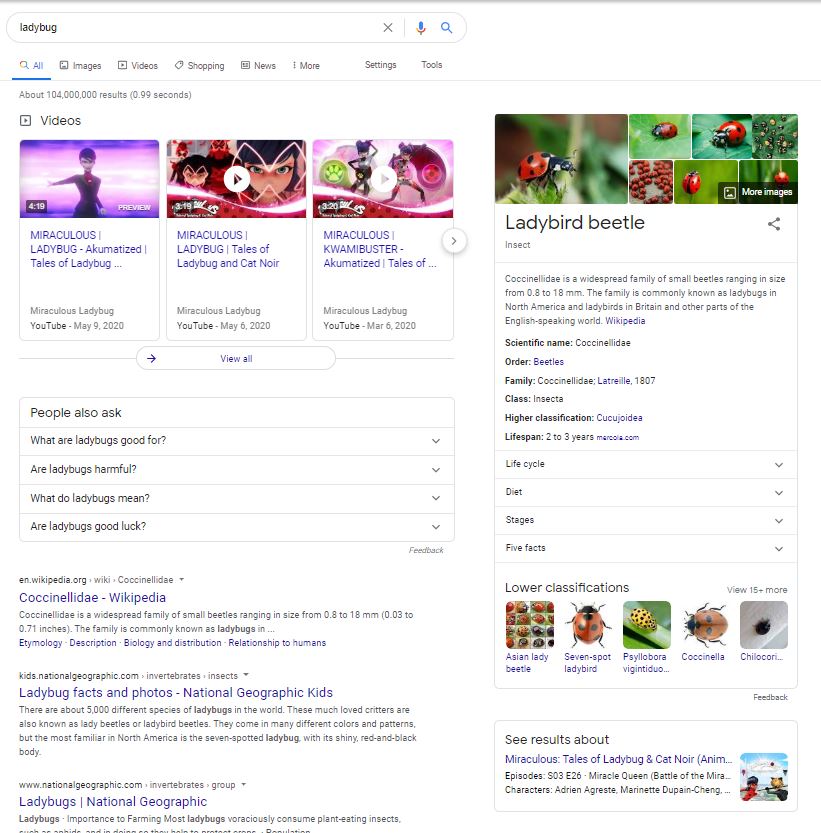 To determine the information a user is most likely after, Google uses advanced tools to provide smarter results. User engagement was one of the first human-focused metrics Google used to enhance search results to deliver the content a user most likely wants to see.
If content scored high on the engagement scale, then Google would deduce that the content is helpful. As such, search engines ranked high engagement pages more favorably than pages with lower engagement. With this update to Google's algorithm, user engagement quickly became critical for SEO strategies, leaving experts to conclude that keywords matter, but so does engagement.
The role of user engagement in SEO
If you have a brick-and-mortar store, customer engagement looks like shoppers handling merchandise for a closer look or trying garments on in the dressing room. But with so many customer interactions now taking place online, how can you tell if users are engaging with your company's products or services via your website or other content?
One way to understand if and how users engage with your content is by checking your user engagement metrics available in Google Search Console, Google Analytics, Hubspot, or Crazy Egg. These metrics offer insight into how, when, and what your users are doing on your website. If many users show interest and interact with your content, user engagement rates will be high – and so will rankings.
Boosting user engagement – and rankings, in turn – starts with improving metrics that represent user actions on your website. These metrics include:
Click-through rate

Click-through rate (CTR) is the number of clicks a link receives. Google uses CTR and long-tail keywords to understand and rank relevant content.
What is a good click-through rate?
An optimal CTR varies depending on what you're tracking. For example, a good CTR for Adwords is 4-5% (search) or .5 -1% (display). For organic search, the average #1 spot has a CTR of 28.5%.  For the second position, the average CTR is 15.7%, and the third is 11%. The number ten spot has an average of 2.5% CTR.
Average Time on Page/Average Session Duration
Also called session duration, average time on page is the amount of time a user spends on a page. Google uses this metric to understand the content's degree of helpfulness. The logic is that people will spend more time on pages with more helpful content.
What is a good average time on page?
A good average time on page is typically 2-3 minutes.
Bounce Rate
Bounce rate is the percentage of users that enter your site but then "bounce" off without visiting other sites or taking an action.
What is a good bounce rate?
An average bounce rate is between 40-55%, though the number is relative.
The Google Analytics help center has this to say about a "good" bounce rates:
"If the success of your site depends on users viewing more than one page, then, yes, a high bounce rate is bad. For example, if your home page is the gateway to the rest of your site (e.g., news articles, product pages, your checkout process) and a high percentage of users are viewing only your home page, then you don't want a high bounce rate.
On the other hand, if you have a single-page site like a blog, or offer other types of content for which single-page sessions are expected, then a high bounce rate is perfectly normal."

Exit Rate
An exit rate tracks how many visitors leave from a page. It's calculated by dividing the exits by the pageviews.
What's a good exit rate?
A "good" exit rate is relative. If people are exiting from a thank-you page, then that's not a big deal because they've completed their mission. However, if they are exiting from a shopping cart before finishing a transaction or a submission form page before filling it out, there could be room for improvement.
What's the difference between exit rate and bounce rate?
A bounce rate focuses on an overall session, while an exit rate focuses on a particular page.
Returning Visitors
Your rate of returning visitors is important for knowing whether you're creating content that users find helpful. High rates of returning visitors indicate to Google that you've built brand loyalty and high user satisfaction.
What percent of page traffic should be returning visitors?
You should aim for an average of 37% or higher for returning visitors.
Pages per Session
The pages per session metric is the average number of pages a user reviewed during a session.
What is a good pages per session metric?
The average is two pages per session.
The simplest way to track these user engagement metrics is by reviewing the data monthly and monitoring the metrics over time to identify trends. In platforms such as Google Analytics, you can even create audience segments to see the behaviors on your website by demographic. With these insights, you can create content, calls-to-action, or perform website updates with user engagement – and higher rankings – in mind.
User engagement is one step toward Google's human-centric search progression, and it's why you can type obscure queries, the odds-and-ends of a song lyric, or a strange question into Google and walk away with a satisfying answer. But there's another, newer factor at play: user intent.
User intent joins user engagement in the battle for rankings
Recently, Google has improved its understanding of human-centric searches beyond keyword recognition and user engagement to include a user's intent. User intent is essentially the not-written goal behind a search query.
Google defines user intent as follows:
"When a user types or speaks a query, he or she is trying to accomplish something. We refer to this goal as user intent."
In a recent blog post, "Why is the Sky Orange, "Google explains,"…language understanding is at the core of Search, but it's not just about the words. Critical context, like time and place, also helps us understand what you're really looking for."
Types of user intent
Google has identified three types of user intent based on their Know, Go, Do method of identifying what they call 'micro moments," or snippets in time when users have a specific intention. These types of user intent are as follows:
Informational (e.g., I-want to KNOW)
Navigational (e.g., I want to GO)
Transactional (e.g., I want to DO)
Outside of Google, there's a fourth type of user intent: commercial user intent. Continue reading to learn more about these types of user intent and how they relate to a successful SEO strategy.
Understanding these user intent types can help you structure your website and content to meet the intent by including the information users seek. By doing so, you can boost your SEO rankings and drive more targeted traffic.
Continue reading to learn more about these types of user intent.
Informational User Intent | KNOW
As the most common intention, informational user intent refers to people looking for information about a topic. They have an "I want to know" mentality. Informational user intent searches include the obvious question words, such as "who," "what," "why," and "how." It also encompasses queries that include "guide," "resource," "tips," "learn," or "example."
Google takes many factors into account before displaying results in response to informational queries, including the user's location. To illustrate the role your location plays, consider this example: If you're in the USA searching for the term "football," Google will display information on American football, including the NFL. However, if you're outside of the USA searching for the very same term, Google may serve results for European football, or what most Americans call soccer.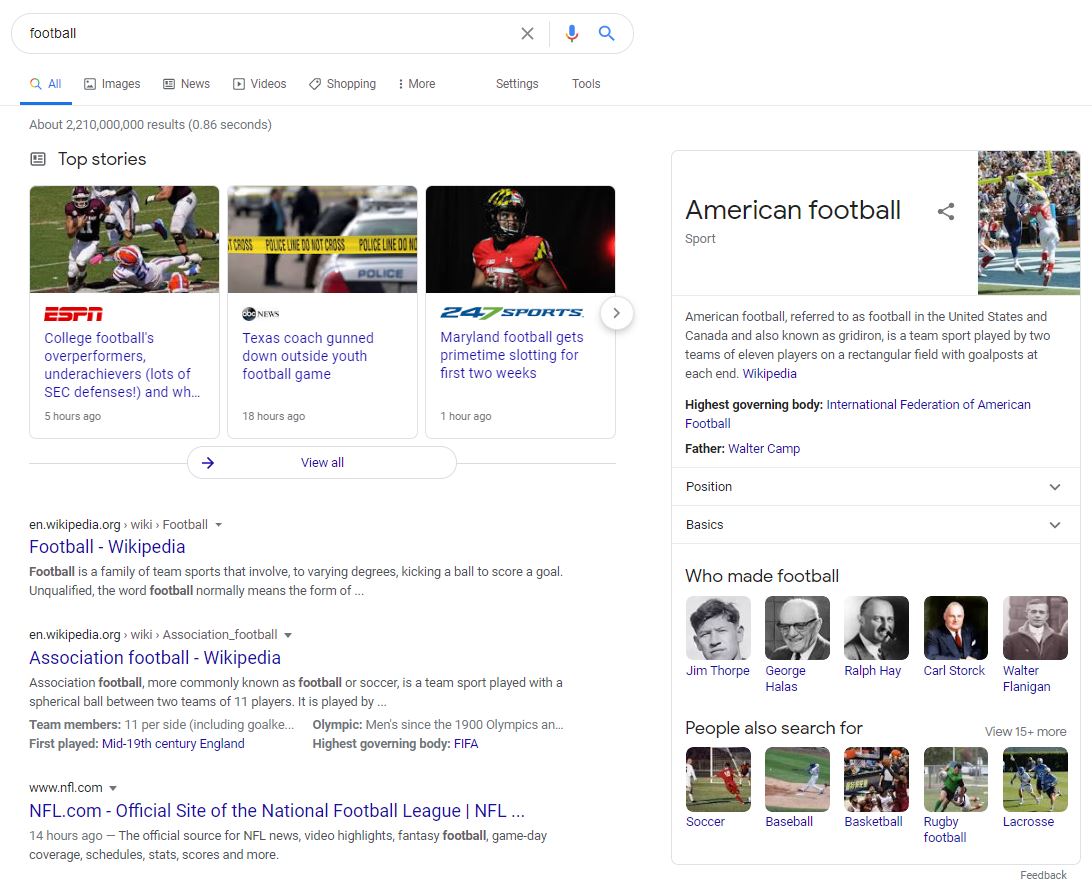 Navigational User Intent | GO
Users with navigational intent are those who are looking for a specific company or brand name, either to visit their website or to visit their physical location. These users have an "I want to go" frame of mind.
Navigational users know precisely where they want Google to take them, using the search engine to help navigate the way. For instance, searching "IQnection" in Google will display results for our company's website, and "directions to IQnection" will deliver a navigational route with driving directions.
Transactional User Intent | DO
Transactional searches focus on a user's "I want to do" intent, whether it's to purchase a product or service or complete another online activity. For example, "buy white t-shirts for men" or "book flight to Ireland."
Commercial User Intent
Queries that fall into the commercial user intent category often align with the transactional user intent. Its focus is on research before they decide to complete a purchase. People searching with commercial intent tend to be in the market to buy and may have specific questions or queries, such as "what Montessori baby toy is good for learning math?" Words typically included in these searches are "best," "top," "review."
Let's take the following example: If a user searches "best toys for 1 year old," Google's search results display articles that list many toy ideas on the same page. These results indicate that users searching for this term would like to see content featuring a list of products before buying.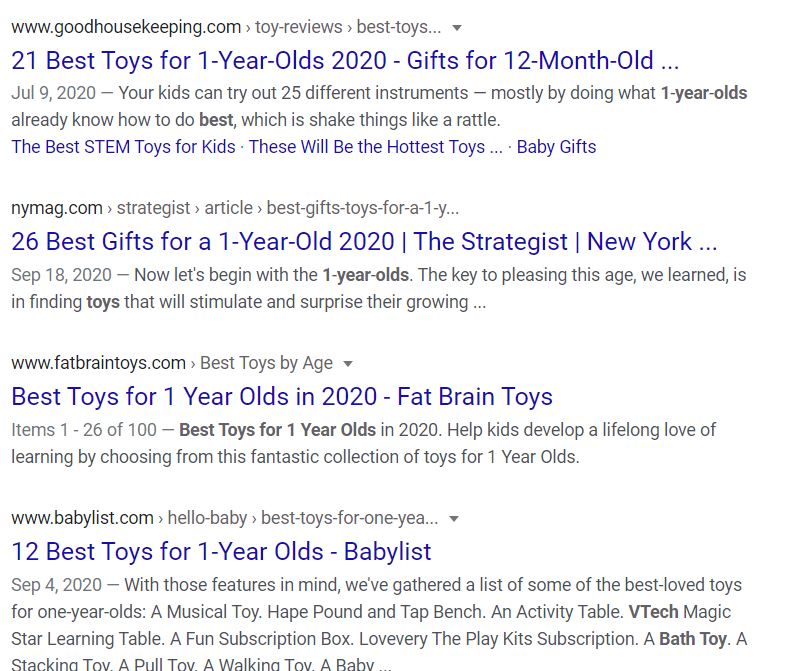 If you scroll to the bottom of the first page of results, you'll see the related search suggestions. Incorporating some of these long-tail keywords into your SEO content strategy is another way to provide the information that users with commercial intent are seeking.

By tapping into user intent, SEO strategies can better plan and target content to ensure users have more successful experiences with search, and more importantly, their brand.
What's the difference between user intent and search intent?
Nothing! However, only user intent is mentioned in the 2020 edition of Google's Search Quality Raters Guidelines.
How do you determine user intent?
A simple way to figure out the user intent for a keyword is to review Google's search engine results for the phrases you want to target in your SEO efforts.
Let's look at an example. If you search the term "engagement photos," you'll see something like the following results.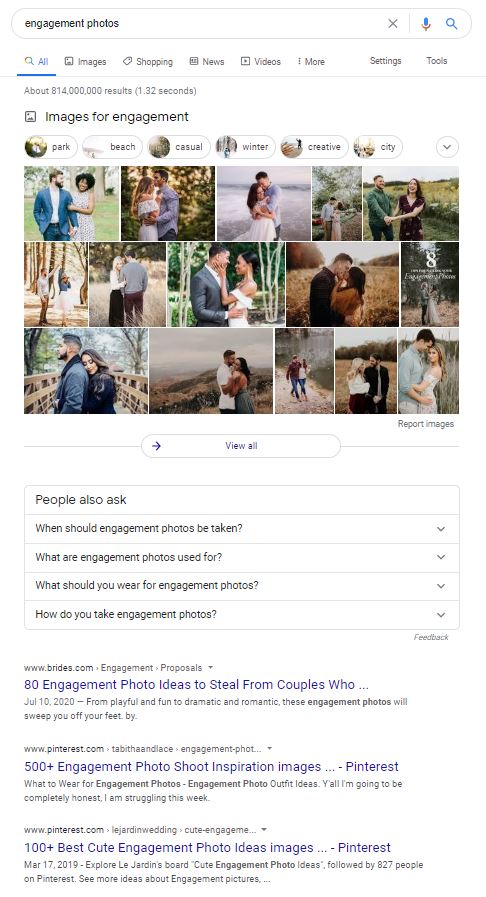 These demonstrate that people aren't necessarily looking for photographers – they want pose ideas and inspiration. We know this because the only way these results have earned a coveted top spot is by providing content that Google has identified as helpful to users.
If you were a photographer, we'd recommend creating a page on your website that includes pose ideas, samples of your work, and answers to the questions in the "people also ask" box.
While typing your target keywords into Google helps shed light on the type of content your users are looking for, there's more to analyzing search results to better understand user intent.
How to analyze Google search results to better understand user intent
Follow these steps to ensure your content is poised to satisfy user intentions:
Search your keywords in Google. Look at the top 10 results and note the type of content, such as lists, tools, resources, etc.
Visit the top results to take a closer look at the content. Is it filled with products? Information bites? How-to information? This step can illuminate the types of content that your target users want to see.
Check your keywords to see if they have multiple meanings (i.e., football vs. soccer) or the results change with plural keyword versions. For example, if you search "panda," you'll get these results:

While context around a keyword is important, making sure you're using the right keyword is too!

But, if you search "pandas" as a plural form, you'll get these results:

When reviewing your keyword search results you'll be able to see if the content is relevant to your product or industry for that term. If it isn't, consider a different term.

What a difference a letter can make! The differences in these results can help you better pinpoint an SEO content strategy designed to deliver what your users seek.

Review the ads, videos, and People Also Asked boxes to understand the information people are looking for by keyword. You can also check out Answer The Public for ideas.
Look at the comparative ranking of results to see the importance to users. Do articles with lists rank higher than guides? Do "how-to" posts rank higher than lists? This strategy is yet another way to hone your SEO content strategy.
Review titles and page descriptions to get a sense of the tone and emotions that connect most with users.
By using search intent, in combination with popular keywords, you're able to create a user experience (UX) people will find valuable.
Putting it all together
We've discussed the importance of considering human behavior and intentions when developing a successful SEO strategy. Highly intelligent ranking factors, such as user engagement and user intent, are playing an increasingly pivotal role in the ability to find and connect with your target audience. We're learning that search engine rankings depend on much more than keyword optimization.
Considering the humans, or users, behind those keywords is critical for success, and their experience – referred to as the user experience – is at the heart of it all.
What is user experience?
User experience (UX) involves demonstrating a deep understanding of your target users, what they need, what they value, their abilities, and their limitations. It also includes their emotions, attitudes, and the ease and satisfaction they feel when interacting with your website content.
UX and SEO go hand-in-hand. A UX approach to SEO is characterized by creating a digital marketing experience that reflects your user's intent through empathy, context, and deep listening. With Google focused on helping people accomplish their goals quickly, it only displays content it deems user-friendly and satisfying. After all, user satisfaction is the only way that Google makes money.
When users have a positive, helpful, satisfying experience with your content, they'll come back for more – and your rankings will soar. As a veteran SEO firm, we help clients create content that reflects the human-based experience behind the keyword search.
The writing is on the wall: Google wants to facilitate a seamless human-to-human experience through search. They want it to feel like the human searcher is talking to a human at a business.
So, how do you do that?
How to optimize user experience and boost rankings:
With SEO efforts weighing heavily on the success of creating a meaningful user experience, the following are our top tips for generating more leads and earning more sales:
Create Quality Content
Answer the questions people are asking. Use deep listening and observation to understand what your clients care about. A straightforward way to start is to ask your staff about the questions your clients are asking. Then, develop content that provides the answers.
Another way to find out what your target audience is asking is to visit Reddit or Quora's topical forums. Many people would prefer hopping on a forum rather than going straight to the source to ask a question about a business. Reviewing forum questions gives you a glimpse into the information your target user wants to know.
You could also look at Google's "People also ask…" section for topics to include in your content strategy.

Review your metrics on Google Analytics and Google Search Console to see where visitors are going on your website. For example, IQnection gets a lot of traffic on our Ultimate Guide to Backlinking blog post, demonstrating that our users are interested in learning about SEO-related topics.
Capitalize on long-form content. Google has made it clear that content is important. Creating long-form content with over 3,000 words has been shown to receive more backlinks.
Why are backlinks important? Check out our Ultimate Backlinking Guide to find out.
Don't rely solely on keyword research. Google reported that 15% of all searches are keywords it's seen for the first time. Instead, focus on addressing your customers' needs using our user intent-focused content development strategy. Providing helpful information is more important than keyword frequency.
Format your content. Make sure it's readable with a font size larger than 12pt., use formatting that includes headers and sub-headers, lists, and some whitespace. Nobody enjoys reading a solid block of text.
Use visuals in your content! From infographics to photos and video content, users engage more with content that has visual interest. Pro tip: Be sure to add image alt text.
What is image alt text? Image alt text is a short description of the image. Image alt text is helpful for both search and people with visual impairments. It's important not to keyword stuff the description as it can result in a Google penalization.
Capitalize on the Mere Exposure Effect, which says that people have a more positive experience with content they see repeatedly. Why? Repetition breeds comfort. To enhance exposure and rankings, share your content regularly because familiarity increases trust. A person is much more likely to choose a brand they recognize than one they don't.
Optimize for Mobile
With more people using mobile devices for searches, creating a responsive website is key for a positive user experience. Mobile optimization includes factors such as making sure your pages load properly and quickly. Pro tip: Be sure that your mobile website has the same relevant information as the desktop version.
Read more about how to optimize your website for mobile here.
Take advantage of Social Media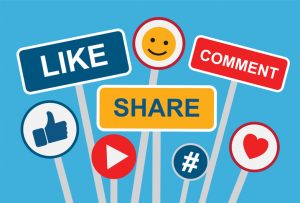 Social Media Marketing is not strictly an SEO tactic – it's a key traffic driver for sharing optimized-content.
Use social media to:
Engage. Engage
Respond to comments
Host competitions, such as sharing a tagged photo for a prize
Interact with brand mentions.
Read more about how Social Media impacts SEO here.
Build Internal Links
Building internal links between the most important pages on your website help increase the time users spend on pages while also providing them (and Google) with helpful information. Internal links also show the Google hierarchy on your website.
Important pages should have more internal links to them than your less important ones.
For example, if you have a product that you're hoping to drive traffic to, include links on other website pages to that page. A great place to do this is blog posts or "recommendation" links on product pages. Pro tip: It's important to use internal links naturally and in ways that are most helpful for users.
Create Review Campaigns
As humans, we seek reassurance by knowing that we are a part of a group – that's why in high school, you may have had the same weird haircut as your friends. They thought it was cool, and so you did too.
As adults, we'd like to think that we are immune to peer pressure, but here's a quick example of how that may not be so true:
When you need surgery, you want to have the best surgeon you can find. Talking to friends and family and hearing about their experiences and outcomes can help you narrow down your provider choice. You're more likely to choose the surgeon your friends recommend than one you've never heard of.
Reviews work the same way. We trust what other people say and assume they, like us, are unbiased.
There are many statistics on reviews. Here are just a few:
People are more likely to buy a product with more reviews (Powell, Yu, DeWolf, Holyoak)
Reviews make people 71% more comfortable with making a purchase (3dCart)
83% of customers trust peer recommendations (Nielsen)
Optimize your page title tags and meta descriptions
Meta descriptions and title tags help increase the click-through-rate. They highlight the unique aspects of your product and brand that would compel a visitor to click.
Look at the titles your competitors are using and see how you can improve them. Meta descriptions that help answer a question or are specific tend to be more successful.
Increase your page speed
Page speed doesn't directly impact your ranking in a technical sense. It does, however, affect your ranking because it reduces the user experience quality. Users tend to click away from pages if they take longer than three seconds to load.
Citation Management
If you have a business where a physical location is important, consider doing Citation Management. Citation Management helps ensure that all your information is the same across the web. Typically, this includes your name, address, and phone number (NAP), in addition to things like business hours, payment methods accepted, and logos.
Lastly, take the time to optimize your Google My Business listing.
5 key ways to optimize your SEO content for user intent
Build authority in your niche with linkable content based on search intent (i.e., Google your keywords).
Optimize content for user experience: use readable font, images/videos, image alt text, headers, and lists.
Add helpful internal links to your content.
Share content on social media.
Update content to reflect changes in user intent. Make sure to review your important keywords frequently. For instance, if you have content for Philly Cheesesteaks on your website, and a musician publishes a new song called "Philly Cheesesteaks," then user intent around the term may change with its popularity.
As Google continues to pivot toward an increasingly human-focused search experience, user-focused SEO becomes increasingly important.
What Maslow can teach you about SEO: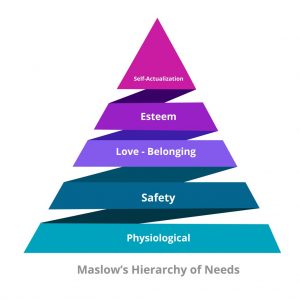 In 2016, the Harvard Business Review published an expanded version of Maslow's Hierarchy of Needs.
Maslow's Hierarchy of Needs originally theorized that there were five basic needs that humans need to meet to be fulfilled and happy. From the bottom up, they include physiological needs (i.e., food, water, shelter), safety, love and belonging, esteem (i.e., feeling accomplished), and self-actualization.
The authors added 30 elements of value to the Hierarchy but found that some mattered more than others. In partnership with Research Now, the researchers surveyed 10,000 customers to understand what attributes they found important.
Overall, quality stood out as being important for customers and having an impact on sales. Other key insights from their research include:
The importance of particular elements varied based on the industry, with quality being the most important overall. For example, Manufacturing scored high for quality, saves time. Banks that scored high with the elements provide access, heirloom, and reduces anxiety tended to have better customer experience.
Businesses with an online presence allowed for easier customer experiences because of convenience.
Quality was the most important element overall.
What does this mean for SEO and user intent?
In combination with the traditional Hierarchy of Need, we can gain valuable insights into optimizing for user intent.
If we understand that people want quality answers that help meet their needs beyond a simple search, then we're one step closer to success. Using Maslov's needs pyramid and empathy, we know that a user searching for "best digital marketing" wants a company that will deliver quality results and reduces cost, hassle, effort, and anxiety.
The best way to demonstrate this value before you interact with a client is by developing content that is informational and relevant to the full intent of their search.
Your client will thank you. And so will Google.
Continue reading: How Social Media Impacts SEO.