Manufacturing Day will take place on Friday, October 7th and companies throughout the Philadelphia metro region will participate. At IQnection, we have strong ties to the manufacturing community. We not only support several local manufacturing groups, but we have provided digital marketing services to manufacturers both large and small.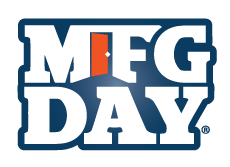 For us, Manufacturing Day is in many ways a marketing event. It was launched to bring awareness to the importance of manufacturing businesses in our country and the jobs they create. It is also an excellent opportunity to reach out to local students, teachers and parents to educate them on the importance of STEM skills and education.
There has been a lot of talk about supporting the manufacturing sector, and we are keenly aware of the economic impact. We have witnessed some great success stories right in our backyard and are proud to call the many producers, manufacturers, and makers our colleagues and clients.
If you are interested in attending one of the many Manufacturing Day events in our region, please visit the Manufacturing Day Website. And follow the day's events at #MFGday16.
Below is a short list of some local events that are open to the public. You can register to attend using the links below.
AIRLINE HYDRAULICS CORPORATION, Bensalem, PA
October 7, 2016 9:00am – 12:00pm
BAKER INDUSTRIES, Philadelphia, PA
October 7, 2016 11:30am – 2:30pm
FISHER UNITECH, Bethlehem, PA
October 6, 2016 9:00am
IMET CORPORATION, Southampton, PA
October 7, 2016 10:00am – 2:00pm
KVINC., Huntingdon Valley, PA
October 7, 2016 3:30pm
M&S CENTERLESS GRINDING, Hatboro, PA
October 7, 2016 12:30pm – 4:00pm
USSC GROUP, Exton, PA
October 7, 2016 8:00am – 12:00pm
{{cta('c010816d-b4d6-4b33-8f46-6e787501e33e')}}