Lead Generation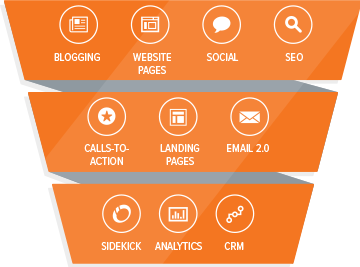 The World Doesn't Need Another Web Design Company
IQnection uses the web to generate leads and convert those leads into new customers.

Most web marketing companies claim to do alot, but in reality they only do one thing.  They build websites.  IQnection looks at web marketing differently.  We generate leads and customers.  We do this by looking at your entire online sales process, from the very first impression all the way through to the referral process after you deliver services.  We use highly sophisticated marketing software to enable us to pinpoint exactly who visits your website (yes, we know who you are!), and then we nurture them through your sales process by using individualized content tailored towards what a specific customer is interested in.
Top of the funnel:  IQnection provides fully managed Web Design, Blogging, SEO, Email Marketing and Social Media managment. With a focus on reducing cost of customer acquisition (CoA) we will help you to generate more traffic to your website by building or organic search results, managing your social media campagins and by posting great things about your business in the blogosphere. 
Middle of the Funnel:  The web presence that we build has a strong focus on converting visitors into customers.  The sites that we design present obvious Direct Business Offers, (DBO's), and also offer an alternative conversion funnel with pre-transactional offers that introduce a lower engagment path to contacting your company. IQnection uses software to optimize your Calls to Action (CTA's) and Landing Pages, which allows us to quickly and easily build content for conversion.  
Bottom of the Funnel: IQnection uses advanced automated marketing software to nurture leads through your sales process.  We will deliver personalized emails to your prospects with the intelligence gathered by each users online history.  We track each and every users interaction with your website, and build individualized profiles around each user.  With this information, we are about to provide your sales team with highly actionable information about each lead which your web presence generates.  
IQnection can also provide your sales team access to a unified customer database (CRM) that includes all information about your customers and leads, and their interactions with an part of your web presence.  If you aleardy have a CRM, like SalesForce, then we can integrate that into the marketing software that we use.  Finially, we will assist in the sales process by managing  both your one time email blasts (i.e. special offers) as well as nurturing campaigns (i.e. post transactional email campaigns) to help guide prospects through your funnel.
How is Our Marketing Different?
IQnection's marketing programs are focused on generating new leads by attracting customers to your website instead of interrupting them.  This means that we don't use pop-up ads, billboards, post cards or tv & radio!  We make customers want to come to you becuase you have the content that they are interested in engaging with.  IQnection's Inbound Marketing strategy is about making your business attractive to potential customers.  Our marketing is designed to bring qualified leads into your sales funnel. By attracting the prospects who are ready to buy, you will save time and money and grow your business rapidly online.
We invite you to meet with our staff and ask us the hard questions. Our experienced staff will be able to tell you what the opportunity is, and whether we are the right partner for you.